Discography
mW® CD Recording Covers

---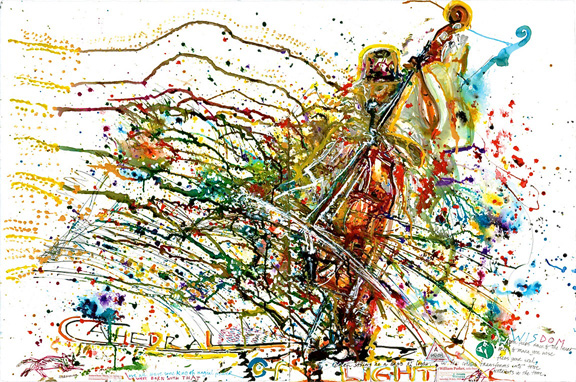 Cathedral Wisdom Light (William Parker Solo) Live in Toronto June 26, 2008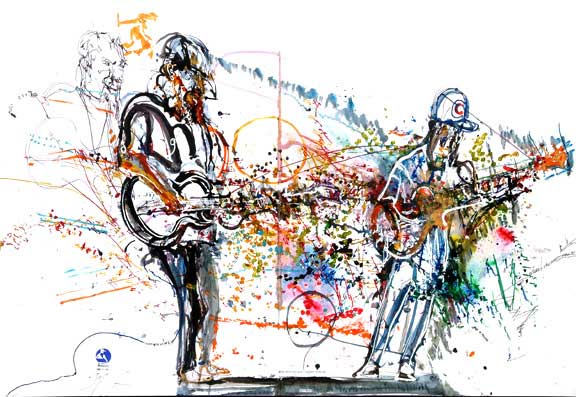 ROOSTERS : James 'Blood' Ulmer - 2004
ROOSTERS : (James Blood Ulmer) - 2004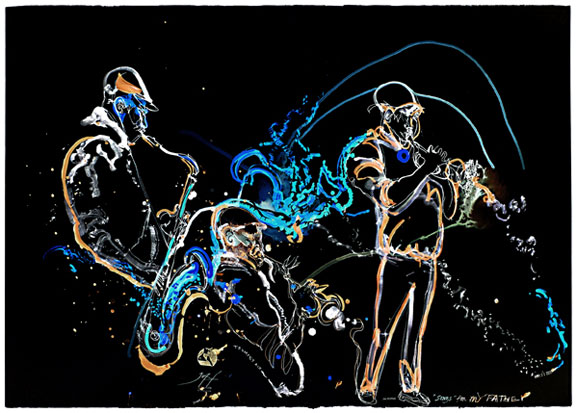 Trumpet Air (Joe McPhee Solo) at The Stone, NYC 2005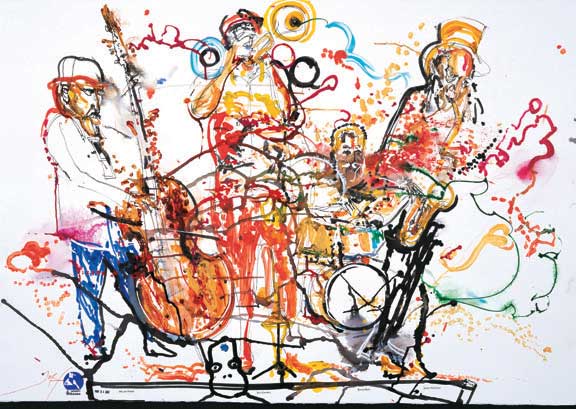 Muntu Two : (Jemeel Moondoc) - 2002
---
---
DOCUMENTS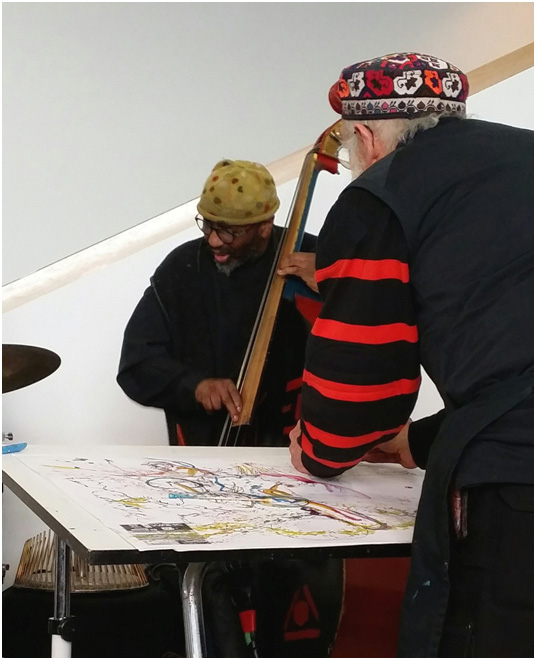 Witnessing Sonoluminescence
with a Curatorial Statement by Jesse Stewart
introducing a 2017 musicWitness® exhibition of works
documenting the Sonoluminescence Trio Live in Canada.
musicWitness® Connie Crothers Book
the performances of musicians,
dancers & poets celebrating the
wonderful pianist Connie Crothers
2016
musicWitness® @ Vision Festival -19:
Marek Lazarsky: www.cooljazz photos.com
2014
CHILE•NEW YORK•AfghanIRAQ
William Parker/Jeff Schlanger (Witnessimo)
Review in the NYC Jazz Record June 2014 issue page 41
by John Sharpe
musicWitness® @ Guelph Jazz Festival:
Marek Lazarsky: www.cooljazz photos.com
September 4-8, 2013
musicWitness® & Testimone di Jazz
Interview with Jeff Schlanger titled
'Testimoni di Jazz' in the Italian Jazz magazine
Jazz Colo(u)rs #12, 2010
musicWitness® with Poet Mark Weber @ The Stone 2009:
(see painting at the top, photo & link at the bottom)
musicWitness® & poet Mark Weber on Jazz Art:

musicWitness® & William Parker on CBC Radio in Canada
Interview by Andrew O'Connor - Sept./Oct. 2008
Brooklyn Rail article on the words + music program at CUE
SPIRITWORLD review CADENCE 2007 OCT-NOV-DEC
Guelph Jazz Festival-2005 Poster
CUE Art Foundation News
"The New York Sun"
musicWitness® Vision:
Interview by Laurence Donohue-Greene
-
musicWitness® @ [one final note]
issue #11 Vision Festival 2002
May to June. The Center & CBGB's - New York
issue #10 Manhattan Spaces 2002
issue #9 20th anniversary 2001
20th Tampere, Finland Jazz Happening
issue #7-8 summer/fall 2001
Vision Six : The Flow of Feeling
issue #6 spring 2001
Mercuric Visions II : The SCROLL
issue #5 winter 2000/2001
Tampere Jazz Happening 2000
issue #4 fall 2000
The Compelling Interrelationship of
Music and the Visual Arts
---

---
| Home | Biography | musicWitness | Prints | Witnissimo DVD's | Discography | Sculpture |
© All rights reserved. Unauthorized reproduction is a violation of applicable laws.
webMaster: Gannett Ries