One Long Painting

Art by Jeff Schlanger, and live performance by Oliver Lake, alto saxophone 2019 The musicWitness® Project has been engaged with documenting live performances by an extended community of musicians, dancers and poets since 1975. Drawing/painting interactive sounds in the dark is primarily a listening/looking process, a marking dance with rhythms of sonic colors. Each individually annotated picture is also fundamentally conceived in continuous connection with all of the others: ONE LONG PAINTING. This series embodies extended two-handed visual applause for the combined resonance of wholehearted offerings from all these poet/musicians experienced in vibrant moments of live musical conversation. The tactile extension of the original live art represented in this sequence is 45 meters (150 feet) long.
Sunday June 9, 2019
Anthology Film Archives
32 2nd Ave, NYC, 10003
.
---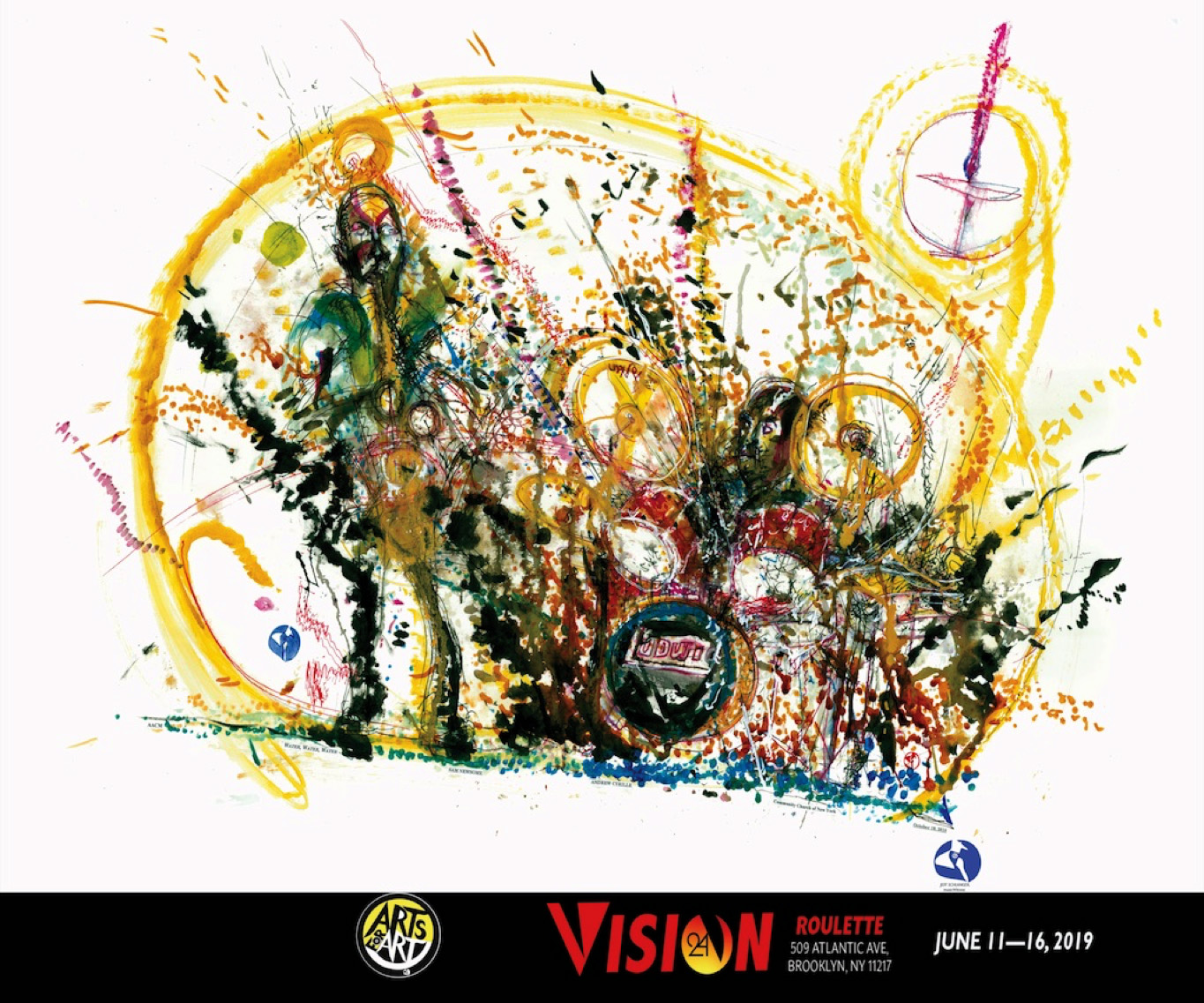 Arts for Art - Vision 24
Jazz for a free world
June 11 - 16, 2019
ROULETTE
509 Atlantic Ave.
Brooklyn, NY 11217
.
musicWitness® : The Earth Kitchen Moan
Trail of Tears Continuum1492-2019:
(William Parker with Cooper-Moore, AnnMarie Sandy, Raina Sokolov-Gonzalez,
Hamid Drake, Steve Swell, Rob Brown, Tracie Morris, Fred Moten),

Original art 70 x 100cm made Live @ The Kitchen NYC March 7, 2019.
.
---
Nominated by the Jazz Journalists Association
for the 2019 Album Cover Award

.
---

VIDEO (part 1) ---musicWitness® Project by Yusef Jones
VIDEO - musicWitness® Interview from the Guelph Canada Jazz festival Colloquium on September 6, 2013


musicWitness® © All rights reserved.