Ash Crisis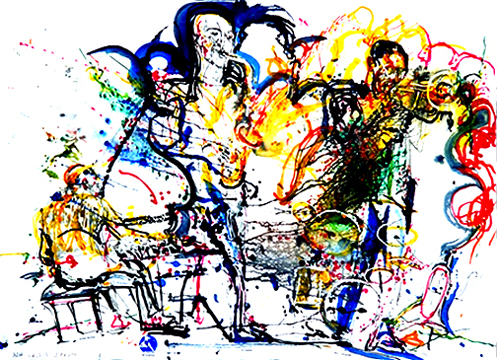 The Tampere Jazz Happening celebrated its 20th anniversary with a beautifully coordinated manifestation of how people can listen to each other and create awareness of new harmonics in human social possibilities. If ever there was a time for a brilliant gathering of live music from different countries, it was in these days and nights of world war and threats of retribution. Apprehension, grief, and rage were like incense fogging the airports, while ignorance, violence, and letters of disease were spread through the usual channels of public communication.

On Friday night, November 2nd, Andrew Bemkey's piano began to rumble through the deep tones of downtown New York's Ash Crisis, picked up by eager ears in Geoff Mann's drums. Roy Campbell's incandescent trumpet force set off the eastern cry in leader Ori Kaplan's alto saxophone. The intense sound of New York right now was being delivered live and indelibly to an eager international gathering downtown in Tampere.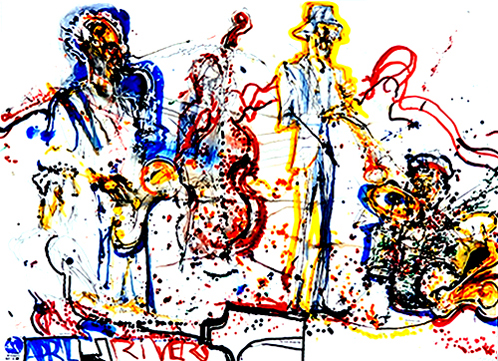 April Rivers
Then Sam Rivers' Trio with Doug Mathews and Anthony Cole opened out musical patterns from the leader's highly developed angles on soprano, tenor, flute and piano. Flowing on through his 70's, Rivers is just as slim, erect, focused, and fiery as he was through those intense nights on Bond Street in Studio Rivbea back in 1976 when the music Witness® Project was just getting underway. Concerts, workshops, and festivals put on there independently by the Rivers family eventually led many of the participating musicians (for instance David Murray, Wadada Leo Smith, Oliver Lake, Andrew Cyrille, Fred Hopkins, Arthur Blythe, . . .) to perform all over the world including here in Tampere. The situation Sam Rivers creates with this music and vision remains an open, moving, and lasting inspiration.
| | |
| --- | --- |
| | |
| EWA7 | Les Emboutisseurs |
Saturday afternoon, Annie Gosfield kicked off her ball-heeled wedgies, toed the electronic pedals of her sampling synthesizer, and eased into the strange tones defining the vast industrial sonic space of EWA7, the creation she premiered in a factory in Nürnberg two years ago. Guitarist Roger Kleier, having warmed up his steel on some Mississippi delta glissandos, slid far out as percussion colormaster Jim Pugliese moved exuberantly from mallets on gongs, cymbals, and an old, bent hot-water tank to hammers on iron wheels and gears both on stage and halfway back into the space, changing its shape.

Les Emboutisseurs, (The Swagers, those who transform and pull metal into long-tubed, flaring brass instruments), a brass ensemble featuring three trumpets (Jean Luc Cappozzo, Jean Mereu & Itaru Oki), two trombones (Patrick Charbonnier & Alain Gibert), drummer Christian Rollet, and the coiled, sensuous soubassophone enlivened by the deep breathing of Jean Francois Charbonnier. Ah, nothing can compare with the ensemble aromatics of French musical civilization and the refined flavors and harmonies of its inimitable cuisine. Long may it thrive!
| | |
| --- | --- |
| | |
| The Necks | The Exiles |
The Necks from Australia looks like a conventional piano trio (Chris Abrahams-piano, Lloyd Swanton-bass, and Tony Buck-drums). Actually it is a three-man organism practicing unlicensed mass hypnosis. Exquisite control of the dynamics of extended cyclic motifs produces an unwinding ear-trance that transforms listeners into spinning vessels stowed in the hold of some open boat sailing vast southern seas.

Tony Buck's drums swerve and shift into a whole 'nother gear as they parry and probe the radical feedback pyrotechnics of Jon Rose's sizzling violins. The danger zone inhabited by The Exiles' prickly sparklers and sudden spined rockets might be a shipwreck-prone volcanic reef near the equator to voyagers from The Necks, but the trio transition is definitely stimulating.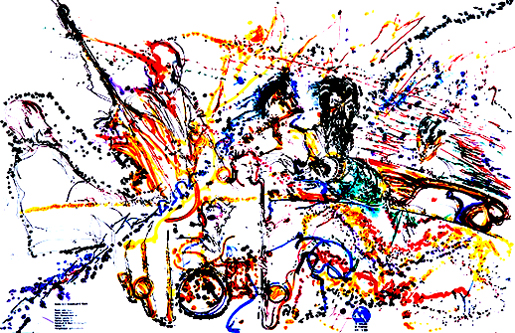 Nada
Fusion welding of two world cultures was achieved live by Nada, an octet featuring Finnish and South Indian musicians. Composer Eero Hämeenniemi, founding member of the Korvat Auki! (Ears Open!) Society, and Karaikudi R. Mani, master of the mridangam two-headed drum, lead an ensemble in which listening together becomes truly communicable. Markus Ketola on trap drums is well tuned to beat cycles of the Karnatic tradition of India. Balasai on wooden flute and Durgabrasad on gottuvadyam played with a slide are just as responsive to the beautiful saxophonics of Pentti Lahti. Brilliant colors of the Indian fabric covering the platform onstage merged with a kaleidoscope of colors in the interwoven musical sounds of Finland and India, manifesting joyful demonstration that listening together in peace is a transcendent social experience.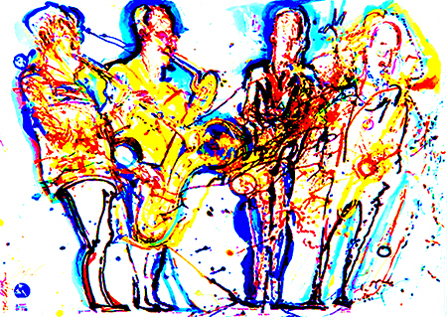 ROVA
Rova Saxophone Quartet (Bruce Ackley-soprano, Jon Raskin-baritone, Steve Adams-alto, Larry Ochs-tenor) came together by the San Francisco Bay in 1977. Fastidious interplay, adventurous programming, extensive touring and recording have forged a unique force for saxophone possibilities in contemporary music.

This listener was drawing at the Tin Palace in New York that same year when Rova's contemporaries, the World Saxophone Quartet, played their first concert. Documentation of the WSQ live continued through the intervening time, especially during the tenure of the late, great creative force, Julius Hemphill. Music Witness® loves the saxophones. And only now, in Finland, do we learn that there had once been an unrealized proposal to bring both Rova and the WSQ together under a rubric to be arranged by Hemphill. Such a special possibility for expansion is still a pleasure to contemplate. How fortunate that Rova continues to mesh so beautifully and bring on the development of its inimitable musical approach.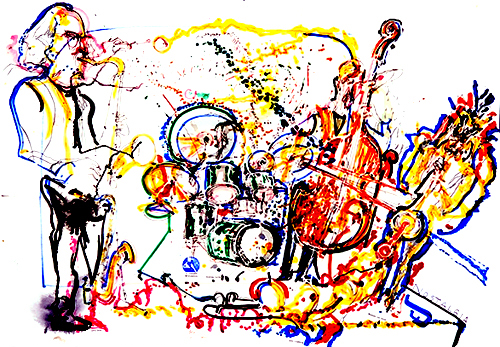 Nostalgia
Nostalgia (accent on the first syllable in Finland) shows the interacting ensemble composed by bassist John Lindberg featuring four distinct musical voices: the always alert and authoritative Andrew Cyrille on drums, Larry Ochs on tenor saxophone with room to stretch his personal sound, and the unique attack of Wadada Leo Smith's trumpet. Each is capable of stepping out and seizing the time. A stunning set was slashed open on this night by brilliant, visionary bursts of spirit-sound from Wadada's horn. Serious damage was done to any preconceptions about limitations on musical expression.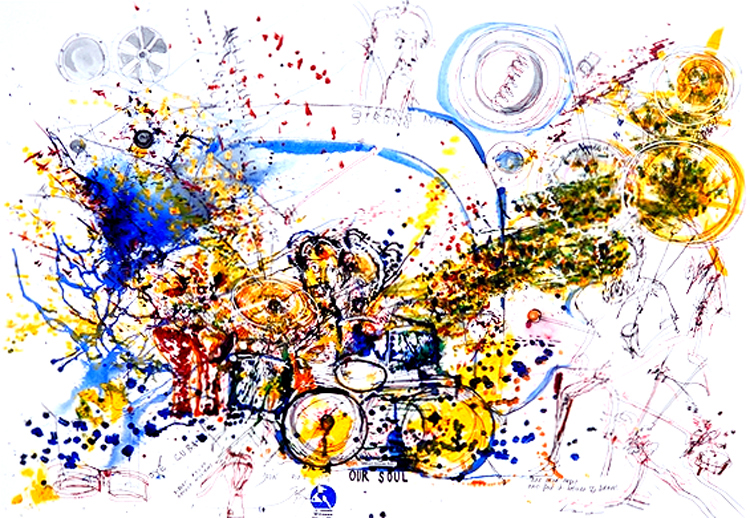 Our Soul
Sunday afternoon saw a vast array of percussion instruments spread across the broad stage. Trap drums, congas, djembes, bongos, timbales, gongs, and racks of industrial gears, springs, and pierced castings were ready as the first vocal callings and talking drum tones of Milford Graves danced into view out of the darkness.

Soon the whole battery was roaring like a giant throbbing multi-colored plane flying towards the audience, anchored by two bass drums driving the bottom and the brilliant golden peal of the big ride cymbal forcefully established and re-established at the top. Retreat was impossible, so everyone present was drawn into a new level of awakening.

The drummer then transformed himself into a tumbling shaman at the stage edge. Suddenly he was discovered seated in the audience with everyone listening together to the mysterious vibrations still emanating from the impregnated arsenal.

Quickly, before there was time to indulge in self-consciousness, four audience members were drawn up onto the stage, each given a different percussion instrument and a different personal rhythm. With a little physical coaching from the Professor, they were soon really leaning into their parts, a multiple complex rhythm was emerging, and the great patterned plane was taking off again. This time the audience itself was the engine roaring Forward (!!!) into a moment of undeniable Healing-Transformation-Happening time.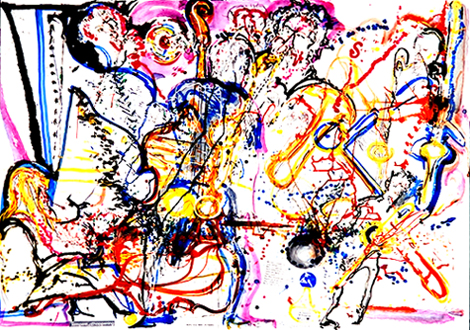 Inscape
The Barry Guy New Orchestra played his recently composed, hour-long structure "Inscape-Tableaux." With the composer conducting from his magnificent bass, all-star colleagues from the UK, Sweden, Switzerland, Germany, and the USA were coordinated, exhorted, challenged, and listened to. The picture of what this Witness heard shows Marilyn Crispell on grand piano on the left, Herb Robertson's trumpet attacking from above, Barry Guy bowing into the extended trombone of Johannes Bauer, and the frightening dexterity of Evan Parker's saxophones. Across the back throb the doubled drums of Paul Lytton and Raymond Strid, together with the tuba of Per Åke Holmlander, the bass clarinets of Hans Koch and, of course, at the lower right, Mats Gustafsson's everting baritone saxophone. Intense. Probing. Tight. Together.
Jamit

Jamit (Jam Session): The main stage show was over. The experienced Happening crew was breaking down the lighting and sound equipment as the chromatically stained hands of the music Witness® packed up paints and portfolio. Yet another flavor of live music was still approaching through the open doors at the reception in the Klubi just beyond the back of the hall. It was a jam session, heard but unseen. Last licks of color were thrown down before rinsing the brushes. Carrying packed bags through the doors and into the party revealed Tony Buck on stage again playing drums, driving another improvising vehicle while Happening Director Annamaija Saarela was moving enthusiastically with those dancing in celebration.

For the twentieth year in a row, the citizens of Tampere have invited exciting musicians and excited listeners from around the world to get together early in November at the center of their city. Getting involved in really listening live to new sound expression, to each other, among other enthusiastic listeners, fresh possibilities emerge. Music, that fastest art, is always the first to show the way.
Korvat Auki ! Ears Open!

Rauha, a long weekend of listening to the musical sounds of peace in Finland.

Kiitos. Thank you, once again, Tampere.
Each original ink and acrylic picture, created during live performances, measures 70 x 100cm (27 1/2 X 39 1/2")