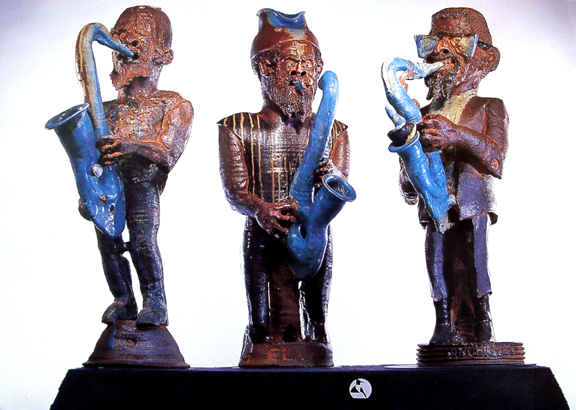 Three Tenors: (David S. Ware, Andrew Lamb, and Andrew White) Ceramic stoneware guardian figures 41½'' (105 cm) high
Fired at Maija Peace Shrine 1996.
Photo: John Begansky Jeffoto
The
Compelling Interrelationship of
Music and the Visual Arts:
Discussions with Artist Jeff Schlanger
By Frank Rubolino

All artwork ©
Jeff Schlanger, music Witness® 2000 all rights reserved.

Jeff Schlanger is a consummate creative artist. He has a passion for his craft that motivates him to recreate with brush, paint, and paper, the visual imagery of the improvising jazz artist at work. He is also an accomplished potter and sculptor who makes his structural images come alive through the molding gestures of his hands. Jeff can be seen in and around the New York area diligently characterizing a live jazz performance. He breathes sustaining visual life into fleeting musical moments in an attempt to refute through his own medium Eric Dolphy's statement that after hearing live music, "It's gone in the air. You can never capture it again." Jeff captures the musicians' creative process and interaction on paper or in clay for all to enjoy. He produces lasting documentation of the unique kinetic energy that surrounds each performance by transfixing the music's image into a spectrum of vibrant colors. His motivation is a deeply felt love for the music, and an equally strong love for painting and sculpture.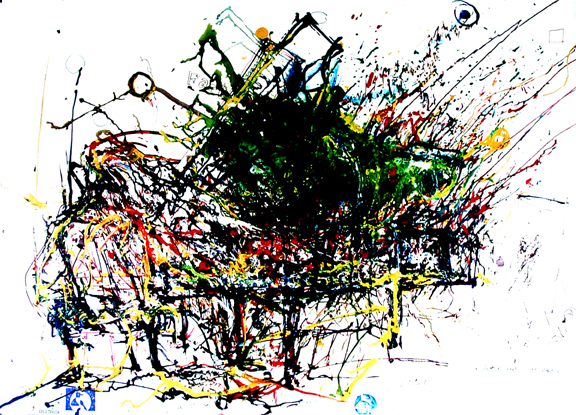 Arc Slender: (Cecil Taylor Solo) Original ink & acrylic painting 27½ x 39'' (70 x 100 cm)
May 24, 1996.
Jeff is not from the paperless society of the digital age. Substance and touch are important to him. "Basically, I am always going to be a tactile, hardcopy man," he told me. "I've got to feel it to believe it. Pens, brushes, knives, glue are my friends. There is nothing that can replace the sensation of saturated wet paint flowing onto good Italian paper. Wet clay will save me and may save us all."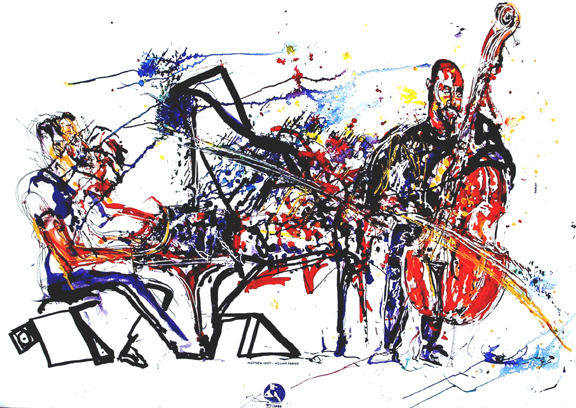 DNA: (Matthew Shipp & William Parker) Original art 27½ x 39'' (70 x 100 cm) made live during the 4th Vision Festival, NY - May 30, 1999.
This compulsion to respond in time to what is happening on the stage has brought satisfaction not only to him but also to the many who have enjoyed viewing his work either as the creative process unfolds or subsequently. Jeff documents the live action of the jazz artist, and he does it in the length of the set, typically under one hour. During this timeframe, he pours paint onto paper with exhilaration and zeal while the enormously powerful musical vibes provide the inspiration for his artistry. He characterizes his activity as "a dance of the hands with wet colors, a human-souled bodily seismograph of the energy, rhythms, and movements in the music." Nor does he feel he is in a race with time. "Each gesture, like each breath, is complete in itself. The work in progress is always 'finished.'"

Preach: (Charles Gayle) Original ink & acrylic painting 39 x 27½'' (100 x 70 cm) made
May 12, 1992 at The Knitting Factory, NY - 1 AM.


"Musicians have to overcome all sorts of obstacles to get to the core of expression, and they continue to deliver it consistently and generously to the listeners." To Jeff, the musicians are "heroic creative warriors who stay right on the time despite those obstacles."

He grew up on East 96th Street in Manhattan. "I saw a cavalcade of great artists from all over the world pass through New York, a huge marketplace that often confuses creative issues. Visual arts have always been a part of my background. I have always been drawing to learn to see. Art is also sculpture, ceramics, and many forms of visual and tactile communication. A big part of artistic communication comes from commitments that emanate from upbringing, environment, mentors and your own visions. With practice and clarity, commitment continues to develop."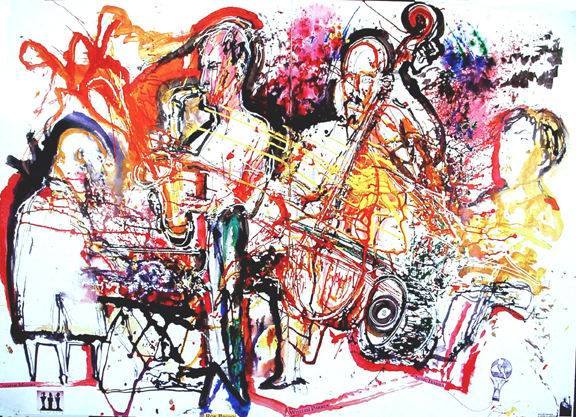 Pots: (William Parker In Order to Survive Quartet) Original art 40 x 55'' (100 x 140 cm) made live at the Knitting Factory, NY- July 2, 1997.
Yet, I still wanted to know how Jeff dove so wholeheartedly into the project of capturing the live jazz improvisations. Jeff explained that he had a long association with musicians. He went to the La Guardia High School of Music and Art and was exposed there to a multitude of creative personalities on a regular basis. Pete LaRoca Sims sat right in front of him in Spanish class. Drawing came about from being encouraged in learning the arts as a universal language at the high school. "I drew in subways on the way to school, in museums, and anywhere else I had the chance." After high school, he pursued a science education at Swarthmore College outside of Philadelphia where on weekends in the late 1950s, he would go to clubs such as the Showboat or Peps. "I heard Sonny Rollins, Dizzy Gillespie with Sonny Stitt, the Jazz Messengers, and the Miles Davis sextet with Bill Evans, Cannonball Adderley, and John Coltrane. It was thrilling and inspiring." Jeff tells the story of hearing Coltrane playing patterns of "Giant Steps" between sets in the dressing room before the song was ever recorded.

"I started making my first sketches at this time. Actually, the very first live music drawings were of Erroll Garner. The dimensions of human joy and inspiration that came off his music…well, it's still a thrill. I started with small drawings. I had to make some response to the music I was hearing. It also helped me spiritually when I was in school. It was then I decided to be an artist." He finished his studies in biology but never pursued a career in science. Instead, he began to study at the Cranbrook Academy of Art outside of Detroit. "The world of academic and commercial science does not include a big part of the human experience. Art can include it all."



JAH Burnin': (Julius A. Hemphill) Ceramic stoneware form 37½'' wood
Fired at Mounds Anagama Edwardsville, IL November 13, 1992.
Photo: Jurg Rehbein


"My late friend, poet Grandin Conover, wrote, 'Art and Science are your only seasons. Pray use them as switchblades, like a poet, not as wallets or semesters.'"

At Cranbrook, Jeff studied under the famed Finnish ceramic teacher and pottery master Maija Grotell. Jeff eventually authored, with Toshiko Takaezu, a Studio Potter book on Grotell titled Maija Grotell: Works Which Grow From Belief. "We tried to pass her legacy onto a younger generation," he told me. In response to my compliment on his writing skills, Jeff said, "Articulation and creativity come from the same place. The clearer we can learn to be, the more we can put together in the moment of transmission."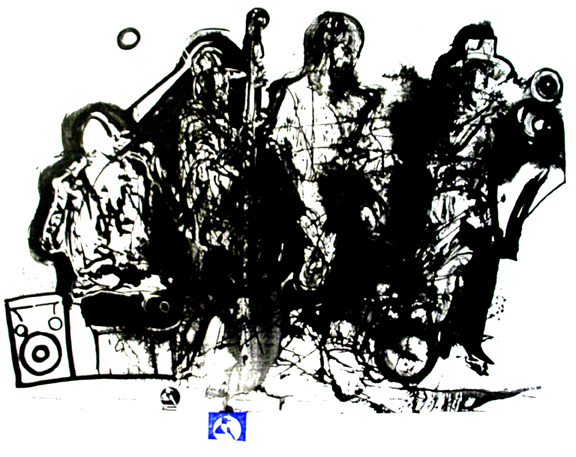 The One: (Other Dimensions in Music Special Quintet) Original color art 28 x 40'' made live at the 5th Annual Vision Festival, NY - May 27, 2000.
Jeff explained to me how the music Witness® project came about, and it closely parallels the evolution of the new music. In 1971, Jeff was lecturing in ceramic art to students at the colleges in Claremont, California where he met drummer Stanley Crouch. Crouch was fronting a band with David Murray, Arthur Blythe, and Bobby Bradford. When band members migrated to New York in the mid-1970s, Murray and Crouch shared a loft apartment over the Tin Palace where they organized concerts during the emerging 'loft scene' that was developing in New York. Sam Rivers' Studio Rivbea and Joe Lee Wilson's Ladies Fort were other active venues downtown. The AACM members from Chicago were also playing in the neighborhood. Crouch invited Jeff to sessions at the loft. Hearing Henry Threadgill, Fred Hopkins, Arthur Blythe, Leo Smith together with all the members of the yet-to-emerge World Saxophone Quartet had its impact. "It became clear that this was important and someone had to try to get a record down. This was the music of a creative generation of people coming together."

A pivotal moment occurred at the first session. "Across the loft, I saw Julius Hemphill in a shaft of light that identified someone special even before he picked up his horn. When you heard his sound and attack, you realized that there was something absolutely inimitable about what he was doing. I followed his live performances in New York for 20 years. All his music was unique. This was serious new business and I had to stretch in order to find a way to try to deal with it in the visual terms I knew. That was the spearhead. What Hemphill represents is still a catalyst of contemporary possibility. He demanded everything be fresh and complete each time out."

BlueSax was inspired by Hemphill for his opera "Long Tongues" and graces the cover of his sextet recording of Fat Man and the Hard Blues. "Julius could see where I was going with the music Witness® project from the beginning. His encouragement was ruthlessly practical, and it called upon you to go beyond what you expected was your best." Hemphill had wanted to put the BlueSax on stage for the opera tour that never materialized.

Out of those loft experiences was born a project that has consumed a large part of his life. "I have been building a 25-year visual archive of paintings of these listening experiences. When I realized this was a serious calling, I gave myself the job title music Witness® like I devised the mark I use on pottery, sculpture, and paintings."





BlueSax: Glazed ceramic stoneware form 30 x 12 x 8'' (75 x 32 x 20 cm) fired November 3, 1990 at Maija Peace Shrine, NY.
Photo: Jurg Rehbein
There is an enormous amount of respect shown to Jeff by the jazz community. "My relationship with musicians has been wonderful and encouraging. If you are drawing from someone else's creative energy and transforming it, the dialog calls for response, for giving back something in return. I try to be scrupulous about this. Many musicians know my language. There is a bond."

In speaking of Sonny Sharrock, Jeff said, "Sonny could make anyone see a river of colors all coming out of love. On the night documented by Space Ghost, Jef Lee Johnson was inhabited by Sonny's spirit."



Space Ghost: (Jef Lee Johnson) Original art 26 x 40'' made live at the August 23, 1998 tribute to Sonny Sharrock.



William Parker at Maija Peace Shrine November 24, 1997, the day his solo CD Lifting the Sanctions was recorded.
Photo: John Begansky Jeffoto

Jeff cannot say too much about the contributions William Parker has been making to music and art. "He is a natural leader and a community builder. For many listeners, he is playing the working heartbeat of New York, its deep humanity. What he is doing with his life is so basic, so essential, so down to earth, so real, it transcends talent, style, or period."

When drawing a performance, Jeff has no set rules or procedures. "It starts with destiny choosing what I go to hear. I go out to hear music I need, music that burns with what is going on in the human heart right now. I have no program. If the music gets to me, the picture just flows out. All I have to do is listen and look. Listening helps me see. The dance of my hands helps my body listen to the whole music developing at once."



Higher Forces: (William Parker) Original art 39 x 27½'' (100 x 70 cm) made live January 14, 1996 at Studio Wood - Brown, NY.
As for the future of the music Witness® project, Jeff said, "As long as I can get out to listen live, it will be one of my main channels. In order to survive spiritually, it always helps to be in direct contact with human beings engaged in expressing what is really going on now. What are we together? What can our possibilities together be? Live music is the fastest possible delivery system of that kind of information. Original painting and especially sculpture may require more time to communicate the essence of their creative energy. Eventually they may deliver astonishing dimensions of endurance."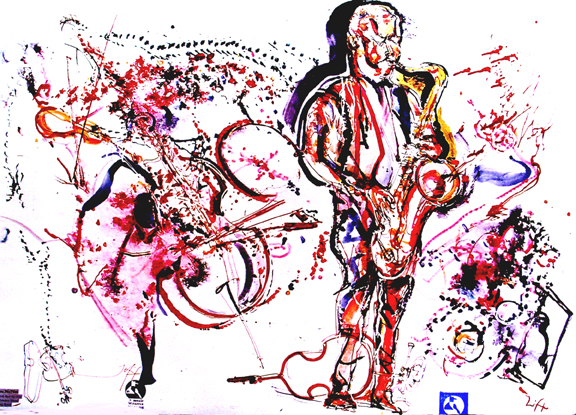 Lift: (Joe McPhee) Original color art 27½ x 39½'' December 28, 1998.
Nothing could sum up Jeff's philosophy better than the Vision statement he wrote to begin the 21st century:

"Look deep into a living source of essential sound. It is possible now to actually see and hear these gleaming colors all pour out of the music, running together inside both eyes, falling as well into open ears."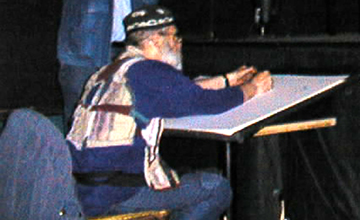 Jeff Schlanger at work at the 5th Vision Festival, NY
May 29, 2000.
Photo: Frank Rubolino.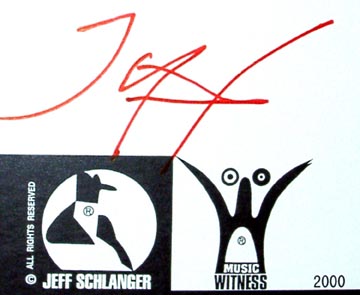 You can contact the
music Witness
® at:
jschlanger@earthlink.net


www.MusicWitness.com