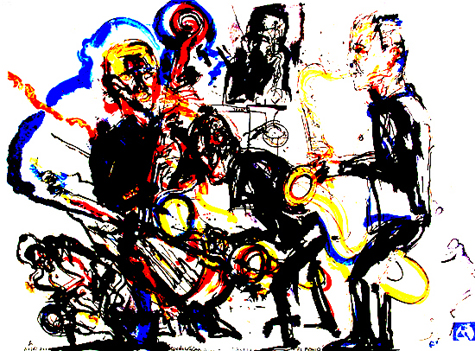 El Bohio (William Parker + Charles Gayle)—3 July 1987

This winter, on the Lower East Side, two beautifully built older structures housing community cultural organizations, El Bohio and Cuando, are falling to the forces of "development" after extended struggles by neighborhood resisters. The destined replacements? Of course. High-priced condos and a shopping mall.

The importance of these two centers as shelters for the manifestation of creative music and neighborhood culture was deep and long. For one instance, El Bohio on East 9th Street, a former school, was home in 1987 to the Jazz Art Expo, an early forerunner of the Vision Festival. The large lobby glowed with a great variety of art including my 8-foot Julius Hemphill column and the painting of the Billy Bang's Sextet Live used on the cover of one of the last LP recordings Soul Note produced. These were surrounded by a tremendous range of work by expressive visual artists and photographers focused on music.

Upstairs, a long cavalcade of concerts was underway. In one classroom you could hear the incendiary sound of Charles Gayle and William Parker pouring it on together with a portrait of Trane on the wall between them. Vibrations from that encounter continue to hang in the neighborhood air. Both Stones were there in the audience as usual, listening to the leading edge.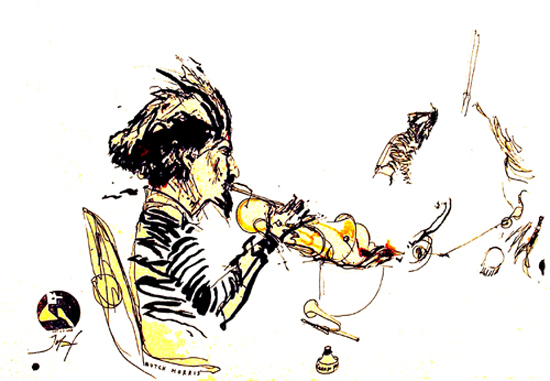 Cuando (Butch Morris Solo)—18 May 1985

Down on 2nd Street at Cuando in yet another long series of auditorium concerts, you could have heard Butch Morris conductioning a solo cornet recital with multiple hand signals modulating his own unique breathing.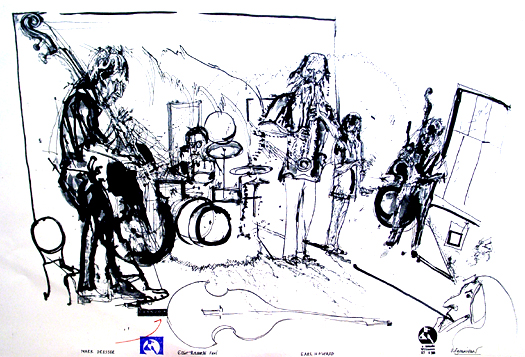 Afghanistan (Mark Dresser / Elliot Umberto Kavi / Earl Howard) @ Cuando—7 October 2001

Cut to October 2001: The World Trade Center demolition zone was casting a pall... The bombardment of Afghanistan was just underway.

Arts for Art organized "From the Ashes," a massive exposition of music concerts and art installations in the now derelict Cuando building paralyzed by intersecting legal and political actions. Lights were hooked up to an extension cord running in from outside. Citizen-Artist-Percussionist Jackson Krall materialized out of the gloom with a dust mask, workgloves and carrying tools.

Mark Dresser and Earl Howard sounded out their antidote at sunset. Then, at nightfall, Joe McPhee came in with Trio-X to play a healing song of aching beauty. For the last time, we filed down the dark stairs guided by a tangled string of tiny multi-colored Christmas-tree lights.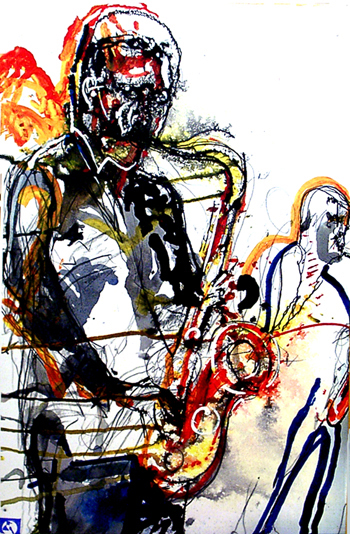 My Lady Sleeps [detail] (Joe McPhee & Trio-X)—same night

Simultaneously, uptown on Columbus Circle, the two massive towers of the $1.7 Billion AOL Time Warner Center continued rising with a $115 Million glass-curtained expanded showplace for Jazz @ Lincoln Center embedded in its groin.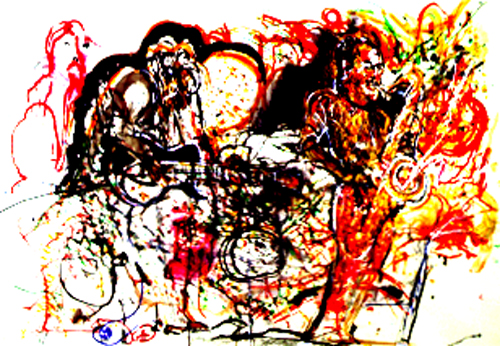 Below the Roots (James Blood Ulmer & David Murray)—28 May 2000
The legendary Electric Circus on St. Mark's Place with purple shag rug on its curving wall was where the Chambers Brothers sang out "Time !" in 1969. It was where the 5th Vision Festival built a stout platform for James Blood Ulmer, David Murray and many others in the year 2000. David declared, "The people need to hear Blood !"and at the end of their set, Ray Bailey exclaimed, "Blood plays below the Roots."

The space, now a market for used furniture, is in transition to oblivion.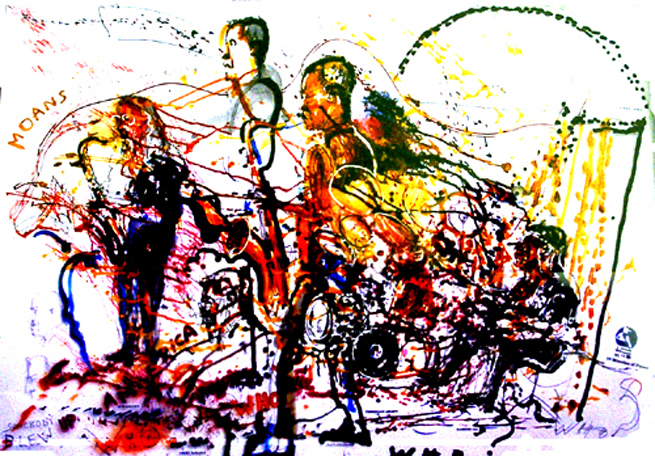 WHO ? ? ? ? ? ("75 minutes of Flame") @ Earl Hall—8 December 2001

Uptown at Columbia University, a unique event dedicated to the living spirit of John Coltrane roared out with the power of dual horns, dual drums and dual poets. Rashied Ali and Pheeroan AkLaff set the pace, Ravi Coltrane and Mixashawn blew and Michael Rogers' strong words told the story of Africa in America.

Then, Amiri Baraka, called up out of the audience, stood between the tenor horns and before the massed drums demanding an answer. "Somebody blew up America ! Who ? Who ?? Who ??? Who ???? WHO ????? "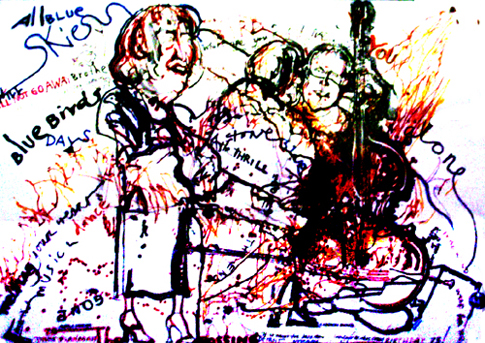 The Crossing (Sheila Jordan + Cameron Brown) @ Knitting Factory—26 November 2001

It was Sheila Jordan's 70th birthday celebration at the Knitting Factory Main Space. The unamplified richness of Cameron Brown's bass was her eloquent partner. Together they turned the awkward room for once into a beautifully intimate singing party. Sheila Jordan's life in songs were dancing with the deep, responsive strings, a musical story that filled everyone's ears with an easy grace, swinging, bopping and real.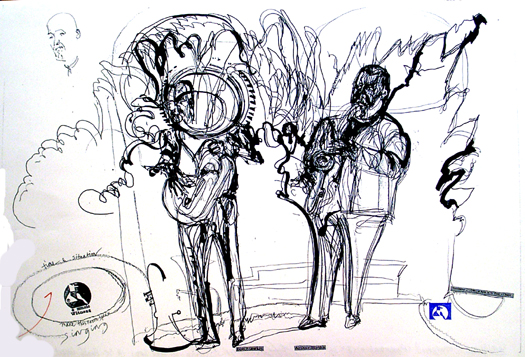 Singing (Bob Stewart + Arthur Blythe) @ St. Paul's Chapel—27 November 2001

St. Paul's Chapel on the Columbia campus is a beautiful work of classical architecture with a magnificent brick-domed and columned interior. The next night, two other masters who have interacted together for decades adjusted their gorgeously flavored duo acoustics to kiss the warm masonry surfaces without microphones, reflecting them back to the listeners ears enhanced in a unique way, "making this room speak."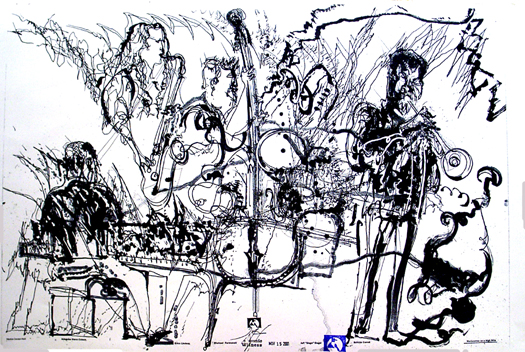 Marionettes (Baikida Carroll Quintet) @ Merkin Hall—15 November 2001

Just beyond Lincoln Center's northern border, a small, comfortable concert venue is the home of the refreshing and varied Interpretations Series produced by the World Music Institute & Thomas Buckner. Baikida Carroll featured the honed and balanced live sound of compositions from his great recording, Marionettes on a High Wire. Adegoke Steve Colson on piano, Erica Lindsay on tenor, Michael Formanek, bass and Jeff Siegel, drums merged and surged together with the force and brilliant complexity of Carroll's trumpet. His group is a forward-sounding exemplar of an intense, open and adventurous American beauty.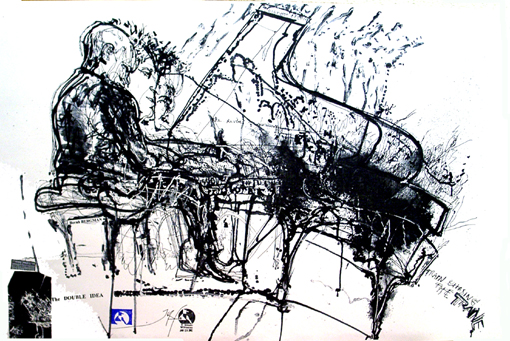 The Double Idea (Borah Bergman) @ Merkin Hall—10 January 2002

Interpretations opened its new year with a solo premiere performance of The Double Idea by Borah Bergman. His unleashed left hand crossed over the right and its "river of sound" for a while even passed down the track of the Train that was chasing the Trane.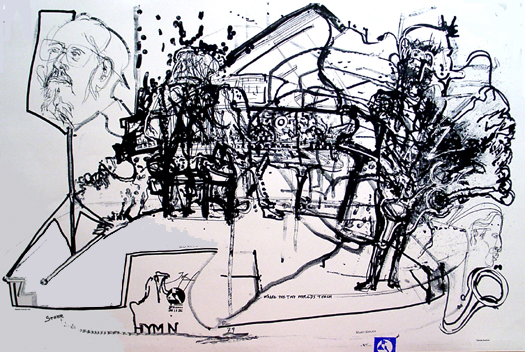 Stone Hymn 79 (Myra Melford + Marty Ehrlich) @ Merkin Hall—same night.

Listening legend Irving Stone, now 79, was right there with his veteran ears to hear Myra Melford's piano touch interact with Marty Ehrlich's masterful reeds, Where the Two Worlds Touch.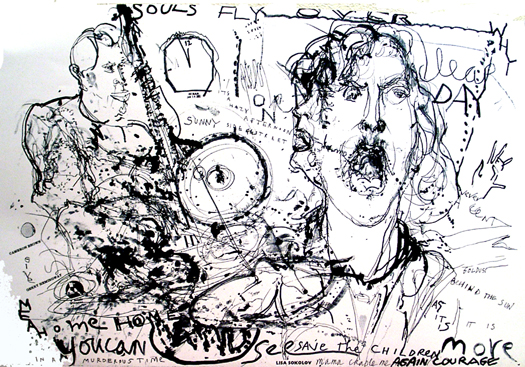 Again, Courage (Lisa Sokolov) @ 55 Bar—16 January 2002

Off Sheridan Square down in the heart of the West Village in a smoky local hangout like the old days, there are semi-regular personal appearances by the wonderful singer, Lisa Sokolov. Her vocal art, one part of William Parker's music from its beginning, has the capacity to go anywhere with confidence and surprise. Intimate with the flying movement of her lyric sound, Cameron Brown is there again on bass, together with the infinitely sensitive, heartfelt support of Gerry Hemingway on percussion.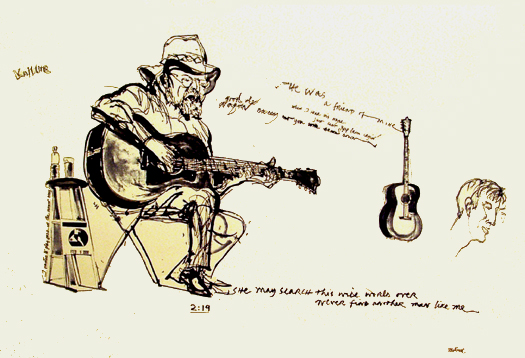 2:19 (Dave Van Ronk) @ Knitting Factory—5 February 2000

Dave Van Ronk, who may have played a thousand and one nights in Village bars like the 55, "wanted to play jazz in the worst way" when he started out. He became an exponent of the Jazz Blue Roots, developing an authentic voice and attack to transmit the music of Lemon Jefferson, Bukka White, Gary Davis, Louis Armstrong and other founders on to later generations of northern City dwellers. He passed away on February 10th, 2002 at 65.

Here he is two years ago, opening for Odetta at the Knitting Factory, his good humor overlaid with growling conviction, delivering the essence of classic lines like "When I hear his name, just can't keep from crying. He, was a friend of mine" and "You're a good old wagon, daddy but you done broke down."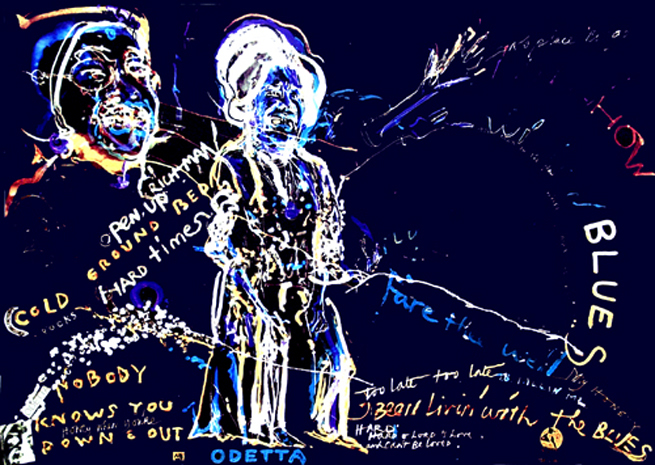 Hard Times (Odetta) @ Knitting Factory—5 February 2000

The thrill of real community in combination with individual human dignity is the huge song of Odetta since her first appearance in New York at 19 in a brilliant red dress at Yugoslav Hall. She has been singing strong Blues among her songs from the very beginning, often with great jazz musicians and always with tremendous personal power. These days she has come to a place where the spirits of Ma Rainey, Bessie Smith, Sippie Wallace and Huddie Ledbetter have come together alive in her soul. The picture shows a gathering of those deep spirit-sounds burning through the very beautiful appearance of a woman in total contact with her listeners wearing, as always, a gold pendant inscribed with the potent words, "(I AM)."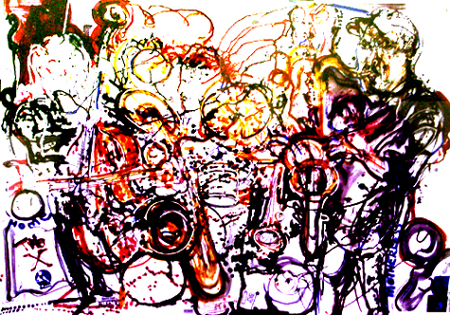 Motherless (Joe McPhee & Trio-X) @ Knitting Factory—1 February 2002

If you drop two floors from the Main Space, past the music Witness® picture of Charles Gayle burning at the Old Knit on Houston Street in 1993 on the landing, on down to the sub-basement, you're in the Old Office lounge. It is a low-ceilinged, dim room with a bar, a Trio at one end and a long line of listeners stretching up the stairs at the other. Trio-X was back in town. Motherless touched me deeply that night. Multiple dimensions of Joe McPhee's live imagination are guaranteed get through to you on many levels and time-frames. Its inspired play with Dominic Duval's bass tones and Jay Rosen's panoramic percussion shakes you loose, opens you up, renews and heals.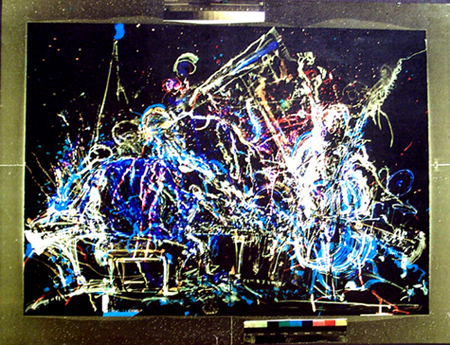 Chromosomes (Cecil Taylor Trio) @ Knitting Factory—8 January 1998

That same night Chromosomes, a 30 x 40" blue-black color print which had been hanging in the Old Office for two years was lit up for the first time. The last show Cecil Taylor played upstairs in the Main Space was on a dark, cold winter night four years ago when the stage was lit only by a few candles. Rose petals had been strewn across the broad Boesendorfer keyboard. The sound intensities of his Trio introducing Dominic Duval with Jackson Krall was recorded on 16 tracks and is still not yet issued. You can see some of the living vibrations of that monumental performance lingering on downstairs.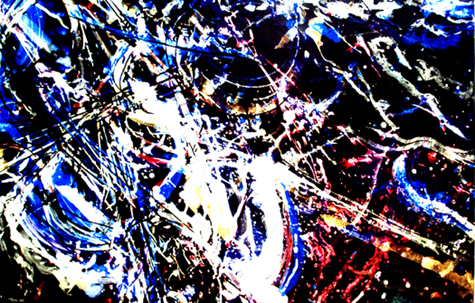 Chromosomes [detail]

A different exposition of that Trio sound was just offered in the second half of Cecil Taylor's concert at Alice Tully Hall on February 28, 2002. The whole tribe of dedicated, open-eared New York listeners were there including the Stones, cool Ray, Pete, Harold, Yuko & Steve D, Bruce Lee, MusicMargaret et al. together with a panoply of heavy, active musicians in an enthusiastically filled house.

Taylor's voice chanted a brief opening while Duval's gleaming new bass plucked harmonics and glowed. Krall's sticks rapped around the broad stage floor and onto the stands and rims of his funky downtown Drums. Then they settled in to open up the frequencies.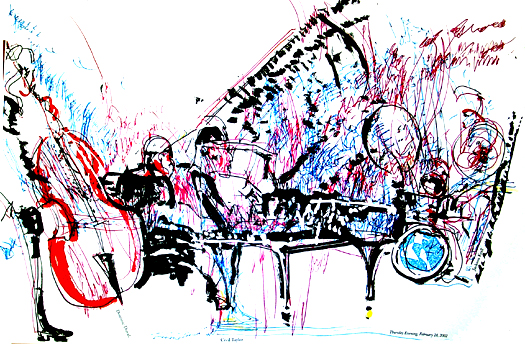 Cecil Taylor Trio (with Dominic Duval & Jackson Krall)—28 February 2002

But in the first half of the evening, our reigning master of inimitability appears out of the left wing chanting "ILA vratta to a circle among Egyptians," glides on long rainbow-colored socks to the open Steinway, sects out the pages of his extensive written score and launches into "An Ascending Axis" solo, "relating to plants and stems of plants."

The panoramic dynamic range of Taylor's keyboard dance builds and projects a unique hailstorm resonance of color-string vibrations. The wide open wood space of Tully Hall becomes transformed into the interior of a vast and resonant piano; ringing, vivid, challenging, extensively poetic.

Then the people are standing, bringing all hands together in shared appreciation of the uniquely charged moment. A hush falls, a reappearance. A brief, glittering extemporaneous response is touched, a liquid warble of haiku, a sonic flower left in all those ears.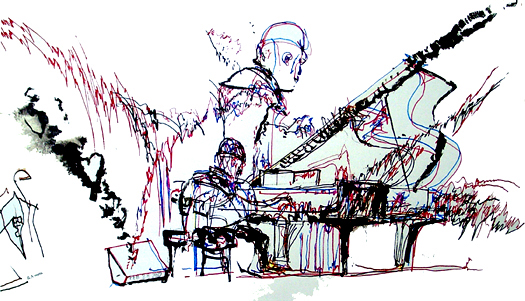 ILA (Cecil Taylor Solo) NAN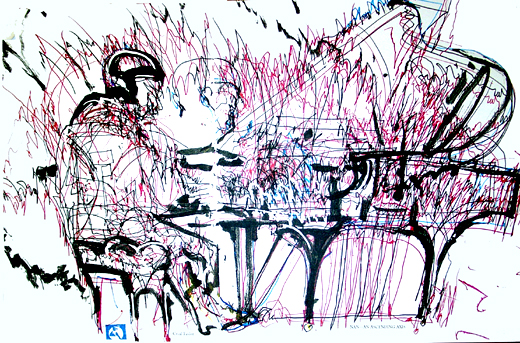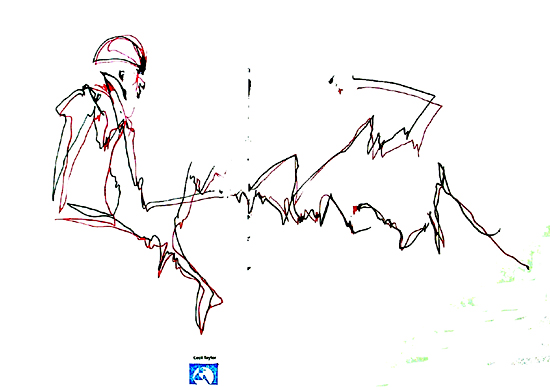 Haiku (encore)