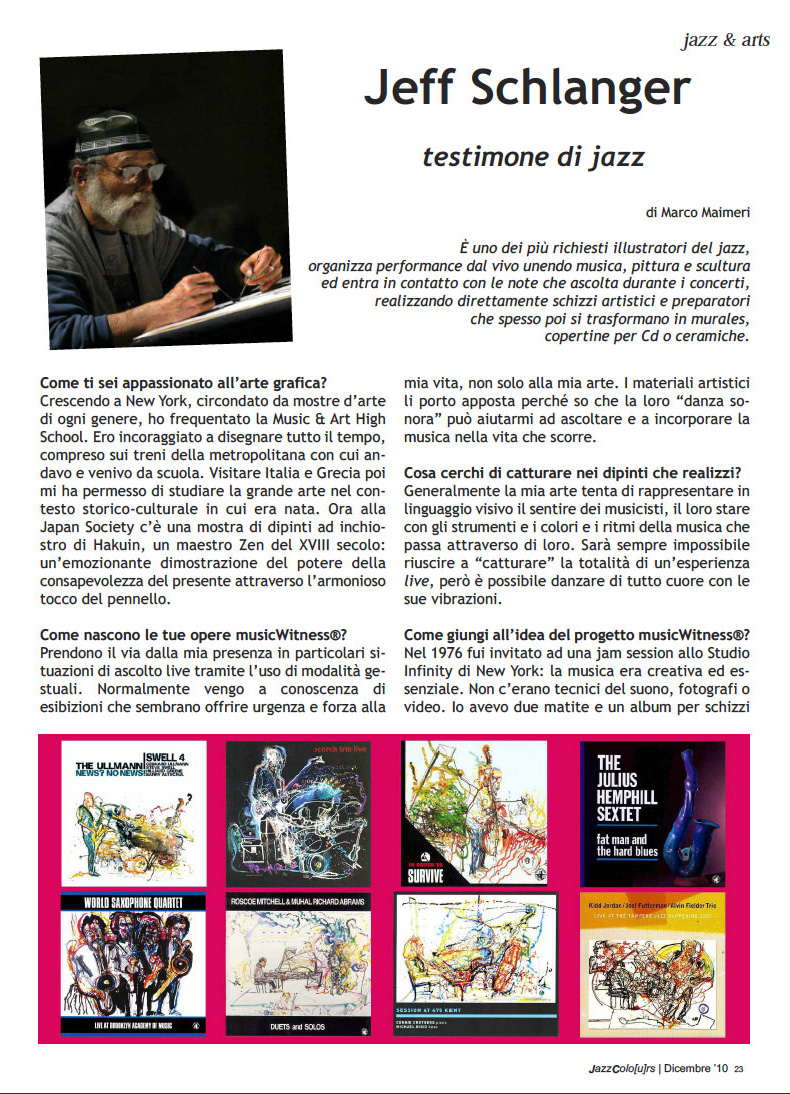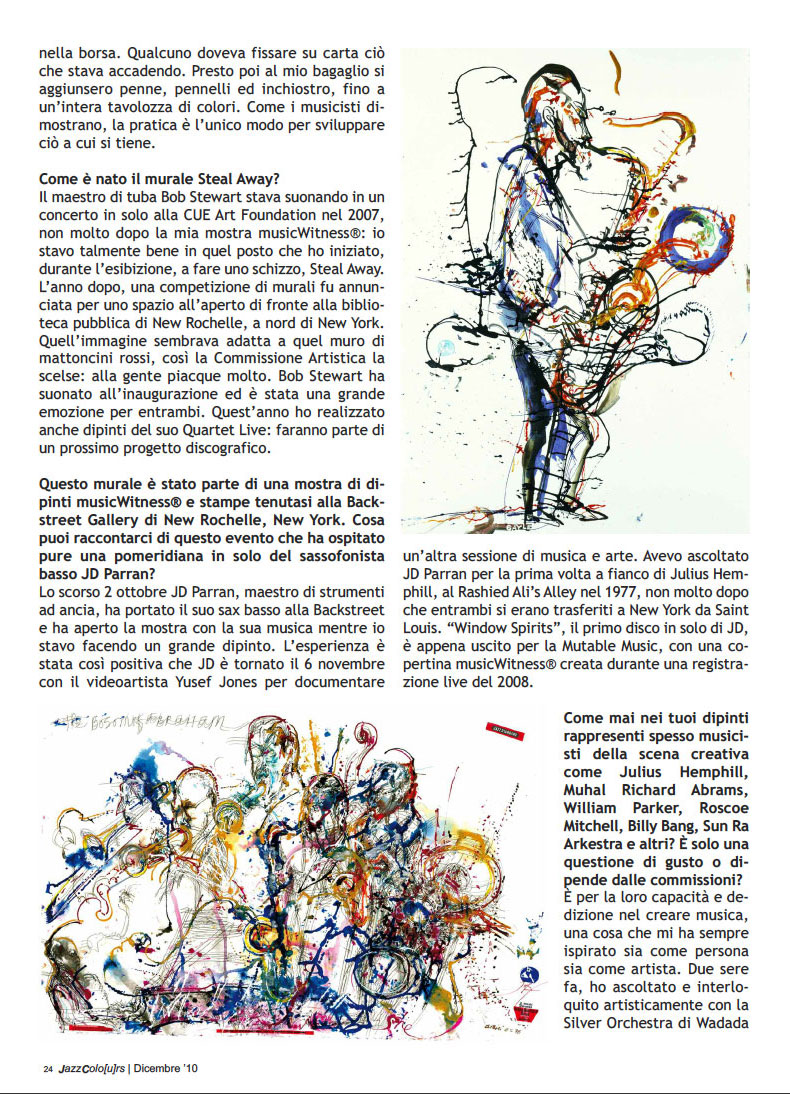 JAZZ COLO(U)RS #12, 2010 : INTERVIEW WITH JEFF SCHLANGER
QUESTIONS
How did you discover your vocation for graphic art and who were your main inspirers in the development of your talent?


Growing up in New York City, surrounded by art exhibitions from all sources and cultures, I was also fortunate to attend Music & Art High School where we were encouraged to draw all the time, including on the subway trains going to and from school. Visits to Italy and Greece opened up the study of great art in the cultural and historic context in which it was created. Currently at the Japan Society in New York, there is a large exhibition of ink paintings by the 18th Century Zen-master Hakuin which is a totally thrilling demonstration of the power of awareness in the present moment through the orchestrated touch of the brush.

A friend of yours, the poet Mark Weber links your artworks to the graphic art of David Stone Martin, Leo Meiersdorff and Romare Bearden. What do you think about these comparisons? Are there similarities between you and those artists?


Romare Bearden was a great artist whose work continues to increase importance as a creative social statement and whose evocations through collage of the tones and colors of jazz music and musicians are unparalleled. The process of my own musicWitness® works comes out of and refers to actual presence in particular live listening situations using gestural means.

How do you usually create your artworks?


Usually, I learn of some upcoming performance that seems to offer an urgent creativity that may possibly strengthen my life at that point, not necessarily my art. Art materials are brought into the situation because I learned that their dance with sound can help my whole being in listening to the whole music and memorably incorporate it into ongoing life.

Generally, what do you try to capture and then depict in your artworks realized during the jazz live performances you witness?

Generally, musicWitness® art is an attempt to throw down in graphic language the feeling of musicians, their stance with their instruments and with each other and also the colo(u)rs
and rhythms of the music passing between them simultaneously. It is always going to be impossible to 'capture' the totality of live experience but it is always possible to dance with its vibrations wholeheartedly.

Was it for this reason that you realized a project such as musicWitness®? Where did this idea come from and in which way did you manage to develop it?


In 1976, I was invited to an extraordinary jam session at Studio Infinity in New York where the music was incredibly creative and essential. There were no sound-recorders, photographers or video. I had two pencils and a Rigacci sketchbook from Firenze in my bag. Somebody had to try to set down what was happening with what was at hand. Soon, in subsequent sessions, pens, brushes and ink were also in the bag, then a full palette of colors. Practice, as musicians constantly demonstrate, is the way we all develop what we really care about.

How did "Steal Away" public mural originate? What did it represent and who commissioned it to you?


The wonderful Tuba-master Bob Stewart played a solo concert at the CUE Art Foundation in 2007 not long after my musicWitness® exhibition there, so I was very comfortable in the space. The Steal Away original art was made live during this solo.

With which spirit did you face this artistic challenge and in which way did you try to win it over?


The following year a public mural competition was announced for an outdoor space opposite the Public Library sponsored by the City of New Rochelle, just north of New York. This image seemed to fit the red brick wall and its surroundings and was chosen by the Arts Commission. There has been a positive response to its presence by many people who do not know about its origin in live improvised sound. Bob Stewart played live at the mural dedication in 2008, a big thrill for us both. This year I have made paintings of his Quartet Live which will be part of an upcoming recording project.

This outdoor public mural was part of an exhibition that contained an ensemble of recent musicWitness® live performance paintings and replica prints at Backstreet Gallery, in New Rochelle, New York. Could you tell us something about this art performance, about the musicians in action represented in these artworks and about the solo concert of bass saxophonist JD Parran that livened up one of the afternoon performances?


JD Parran, master of the reed instruments, brought his Bass Saxophone to Backstreet on October 2, 2010 to open the exhibition with music while I was making a large painting. The experience was so positive that JD returned on November 6 with video-artist Yusef Jones to document another extraordinary music & art session. I first heard JD Parran blow shoulder-to-shoulder with Julius Hemphill at Rashied Ali's Alley in 1977, not long after they both moved to New York from St.Louis. Window Spirits, JD's first solo CD, has just appeared on Mutable Music with a musicWitness® cover created during its live recording in 2008.

For which reason do you often decide to represent in your art creative musicians in action such as William Parker, Wadada Leo Smith, Connie Crothers, Joe McPhee, Sun Ra Arkestra, Ray Vega and others? Is it only a matter of a personal pleasure or is it also for their capability of creating a stimulating music that inspires you both personally and artistically?


It is their capability and commitment to create inspiring music that continues to inspire me both personally and artistically. Two nights ago, I heard and responded to Wadada Leo Smith's magnificent Silver Orchestra playing his original compositions in Community Church.

Do your Cd recording covers of musicians such as Julius Hemphill, Muhal Richard Abrams & Roscoe Mitchell, Charles Gayle, William Parker, Billy Bang and Kidd Jordan originate in the same way as your paintings or do they come/commissioned in other ways ?


They develop from requests by the performing musicians who see the pictures created during live performance as appropriate to a visualized package for their sound recordings.

What can you tell us about your sculptures such as "Long Tongue", "Three Tenors" and "JAH Burning"? What are they dedicated to? And, in general, what are your sculptures inspired by?


My original instrument is the potter's wheel from which these ceramic sculptures arise. An army of contemporary musician-sculptures, the Peace Guardians, has begun. They are inspired by the experience of making musicWitness® performance pictures. Part of the content of the pictures as they are being made is as simultaneous studies for a series of sculptures. The greatest master of sculptural-painting vision I know of was the incomparable Giotto.

To finish with, you often accompany your sculpture installations with live music performances. How did the idea of documenting a concert featuring William Parker, Oluyemi Thomas, Joe McPhee and Lisa Sokolov, on DVD such as SPIRITWORLD, originate? What kind of experience was it and what does this DVD represent for you?


Many of the greatest musicians I have encountered, such as Julius Hemphill, Muhal Richard Abrams and William Parker, have not only mastered the socially expressive possibilities of creative music but know all the arts as one. Whenever musicWitness® visual art is presented, it seems most appropriate creatively to install it as a charged space in which new live music may be created and encouraged, drawing upon the complementary visual environment.

SPIRITWORLD DVD represents an effort to document this possibility with four great improvising musicians who had never played together before, while musicWitness® was trying to 'get it all down in real time' surrounded by performance paintings and sculpture.

CHILE•NEW YORK•IRAQ is a related project currently in the early stages of preparation. 50 large stoneware ceramic Faces on the subject of war and resistance to oppression were composed over the outdoor front wall of the Clay Art Center in Port Chester, NY from 2008 to 2010.

This installation opened with a free public concert and closed with another outdoor concert directly in front of the 50 Faces. Musicians involved were: Roy Campbell, William Parker, Bob Stewart, Joe McPhee and Zen Matsuura. Video, audio and still photos were made in order to document the whole situation. Please support our efforts as we attempt to center this music, art and video material into the expressive communication of a contemporary interarts Peace Demonstration. Grazie tanto.
Jeff Schlanger, musicWitness® : November 21, 2010
additional note:
Tampere Finland Jazz Happening November 4, 2001:
JAMIT (Jam Session ) :
The main stage show was over. The experienced Tampere Jazz
Happening crew was breaking down the lighting and sound equipment
as the chromatically stained hands of the musicWitness® packed up
paints and portfolio. Yet another stream of live music was approaching
through the open doors to the reception in the Klubi just beyond the back
of the hall. It was a Jam Session, heard but unseen. Last licks of color
were thrown down on paper before rinsing the brushes.
Carrying packed bags through the doors and into the closing party revealed Tony Buck on the drums again on stage, driving another improvising vehicle while Happening Director Annamaija Saarela was moving enthusiastically with those dancing in celebration.
JAMIT-002 was also painted in Tampere the following year on November 2, 2002 in the same closing situation, just after the last Happening concert.
Original Art = (43 x 28cm), acrylic on paper.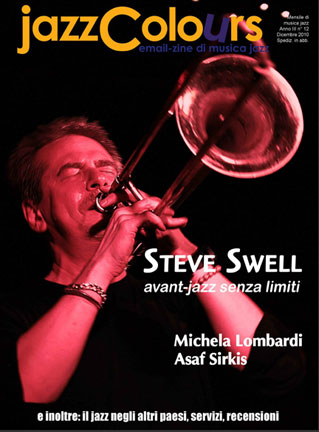 ---
| Home | Biography | musicWitness | Prints | Witnissimo DVD's | Discography | Sculpture |