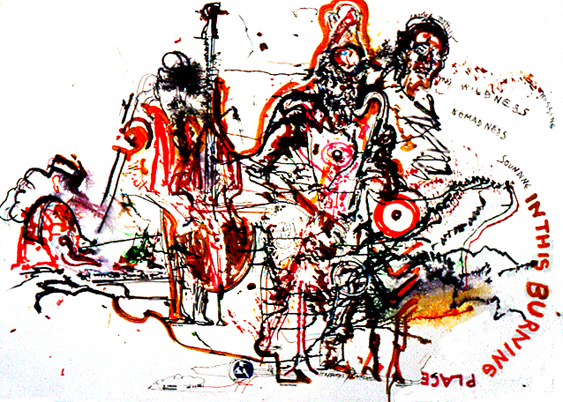 ALAN SILVA | OLUYEMI THOMAS | IJEOMA THOMAS
For two and ½ grandiose weeks in early summer, the Seventh Annual Vision Festival was host to some of the most significant creative work being performed today. Under the superb guidance of William Parker and Patricia Nicholson Parker, the seventh annual festival was logged into the record books by celebrating in fine style the musical, dance, visual, and poetic art forms. Performed by an outstandingly talented multinational cast, the festival paid tribute to professional artistry that is worlds apart from the commercial fare being foisted on the public by more enterprising fests. Visual artist Jeff Schlanger captured on paper the essence of over 50 concerts through his uniquely keen perception of the music, and many of his works are depicted in this article, along with narratives and photographs from the nights I was able to attend. Jeff said, "The spread of expression was amazing over the entire period. The last weekend with an expanded stage, dancers with great musicians, video, film, and scenic artists was an extraordinary and fresh creative zone." Vision 2002 was truly a feast for the eyes and ears, and the vibrations of its dynamic impact remain implanted in the minds and on the souls of those who witnessed it.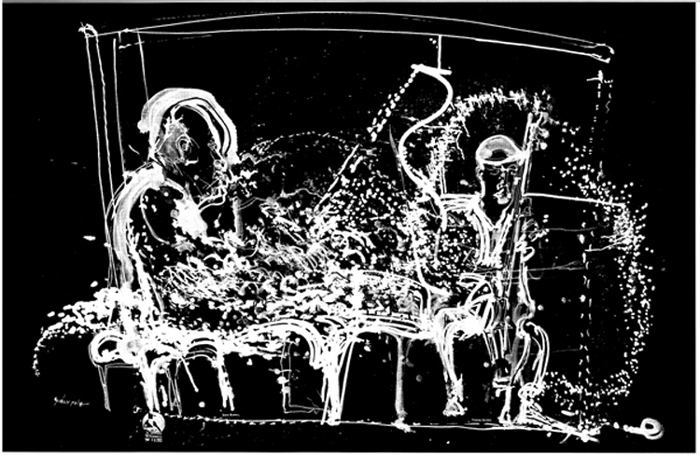 DAVE BURRELL | TYRONE BROWN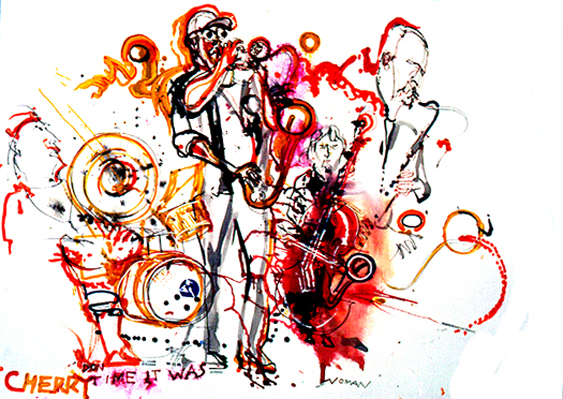 SHADOW & LIGHT
TANI TABBAL | JOE MCPHEE | MIKE BISIO | JOE GIARDULLO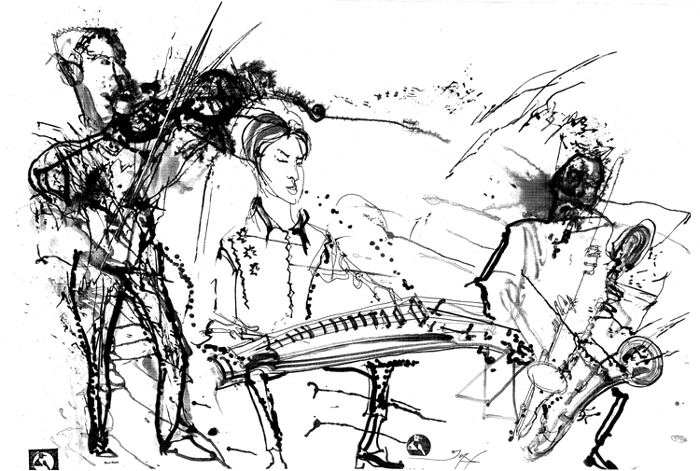 BILLY BANG PROJECT
Billy Bang Project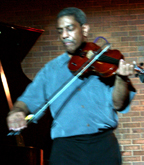 The

Billy Bang Project is an intriguing amalgam of strings and reeds. This trio, with stellar baritone, bass clarinet, and flute player Hamiet Bluiett, and komungo player Jin Hi Kim, emitted mesmerizing music. Much of the program reflected on Bang's musical interpretation of his experiences during the Vietnam War, which gave the set a gripping tonality. Bluiett was delicate on flute yet powerful on the big, floor-standing deep horns. Kim was wizardly on her Korean 6-string, fretted, board zither. She and Bang danced in and out of improvised raindrops while exuding emotional cohesiveness. The all-too-short set keenly showed the mastery of Bang's improvising talent and conceptual creativity.
Joe Morris Quartet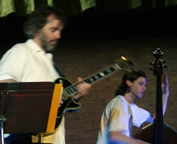 The Joe Morris Quartet played with sparkle and concentrated energy. Morris has a uniquely clear and direct sound that gives him an improvising advantage. He is able to spin off round after round of free verse containing intricately developed phrases without ever resorting to distortion or special effects. Alto saxophonist Jim Hobbs was an excellent foil for Morris. He perpetuated lengthy solos of his own in congress with the directional beams from Morris. Bassist Timo Shanko and drummer Luther Gray established a substantial motive backdrop on this freewheeling set. The music was absorbing in a sobering way, often taking flight with spiraling reams of upper-register notes leaving their residue in the air while the thunderous rhythms echoed beneath. They played with solidarity and an authoritative attitude, and their closing number "Witness" was a definite winner.
Muntu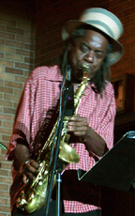 Jemeel Moondoc's first working group of several decades ago (he called it a practice band, meaning they did not work often) was Muntu. The quartet was reunited for this 2002 Vision Festival. Although it is a fiery band, the embers do not glow as white heat; instead, they exude a contained state of energy that stops just short of total chaos. While Rashid Bakr exploded grenades all around, Moondoc and Roy Campbell blew with passion and controlled energy. William Parker, a mainstay at this festival, continued to anchor the music with his relentless pulsation. Moondoc took extended improvised journeys while Campbell maintained reference to the loosely cut themes, and then they switched roles. Muntu's music is based on the song form as opposed to spontaneous composition, but it does not keep its members from roaming the spaceways. Their playing of an Albert Ayler composition was particularly telling.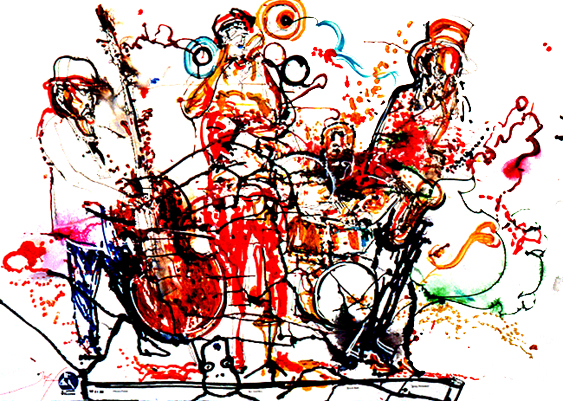 MUNTU
KAREN BORCA QUARTET
Karen Borca Quartet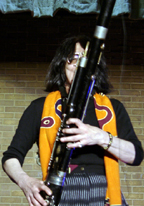 Karen Borca was at the top of her game on this night. She blew with fierce intensity and was able to make the normally docile bassoon sing with energy. Borca emitted long lines of flowing gracefulness, filling her solos with substance and diversity. Her quartet was just as dynamic. Rob Brown has consistently shown his talent for developing long, logical alto improvisations. He was in the proper spirit and played zealously in tandem with Borca or singly. The huge thrill of seeing Reggie Workman in action made the set even more enticing. The master bassist continues to produce phenomenal phrases of multi-string intricacy and complexity. He is an ongoing joy and seems to get better with age. Drummer Newman Taylor-Baker was the right foil for igniting this group, which played three extended, well-constructed free improvisations. It was a good night for music.
Kalaparusha Maurice McIntyre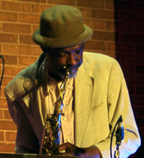 Any chance to see the elder statesman Maurice McIntrye in performance is an event in itself. The AACM emeritus displayed no signs of slowing down as he directed a youthful group through four of his compositions. Instead of a bassist, he employed tuba player Jesse Dulman, and drummer Ravish Momin kept the alternate heartbeat. McIntyre played with mellow intensity, spewing out lovely melodic lines and highly refined improvised passages. The reed/brass combination with a percussion backdrop was very effective. McIntyre was particularly impressive on the Coltrane dedication piece "Indian Man," and the set flew by in what seemed a heartbeat.
Milford Graves / Kidd Jordan / William Parker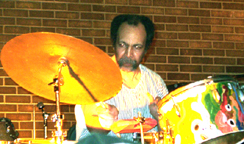 What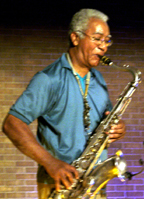 do you get when you combine the provocative drumming of Milford Graves, the powerhouse blowing of Kidd Jordan, and the motivating pulsation of bassist William Parker? These three ingredients were all that were necessary to form an eruptive team of freewheeling proportions. It was a condensed seminar on creative art meeting spontaneous energy as three giants of improvised music met on a common battlefield. Graves fueled an overheated furnace with his rampaging attack, Jordan formulated incendiary missles that launched on command, and Parker worked overtime to propel the movement off the launching pad. It all resulted in an exciting session of overwhelming proportions that was draining for both the artists and the audience. Moments in music such as these are rare, but this trio made the connectivity their private domain.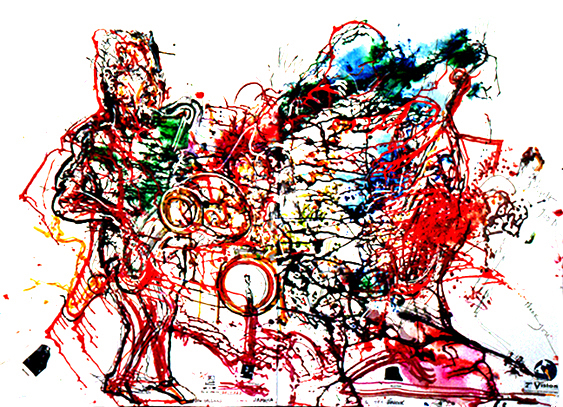 MILFORD GRAVES | KIDD JORDAN | WILLIAM PARKER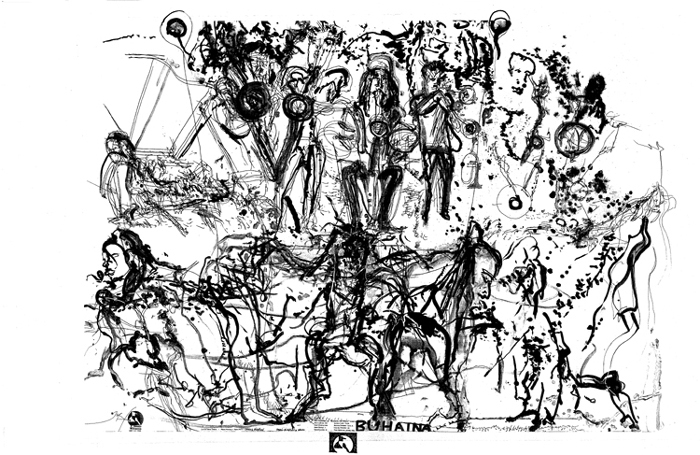 ROY CAMPBELL JR. | "BUHAINA THE GREAT"
Roy Campbell Jr. "Buhaina The Great"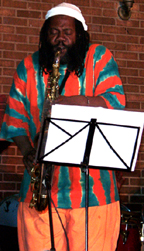 In honor of the groundbreaking drummer Art Blakey, Roy Campbell wrote the five-part suite "Buhaina the Great." It was performed by a tentet that put electricity and fire into the vibrant composition. The lengthy upbeat romper was augmented by four interpretive modern dancers, including Patricia Nicholson, Maria Mitchell, and Aleta Hayes, who demonstrated American, Oriental, and African themes within their limber steps. Campbell's music showed the power and muscle typical of the Blakey style. Everyone had a share of the spotlight, including Alex Harding and Andrew Lamb (pictured), who both exploded on their solos. Pianist Andrew Bemkey punctuated the highly rhythmic music with precise distinctiveness, while the pacesetting trio on percussion - Reggie Nicholson, Takik Abdullah and Michael Wimberly - kept the tempo at a fever pitch. The music had the essence of Blakey as seen through the inspirational mind of Campbell, whose flame-throwing trumpet was an earth-scorcher. It was a dynamic and well-coordinated presentation of two art forms.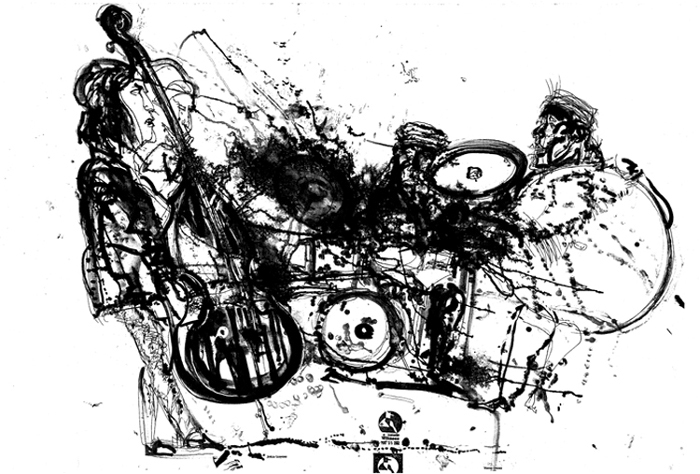 JOELLE LEANDRE | HAMID DRAKE
Joelle Leandre / Hamid Drake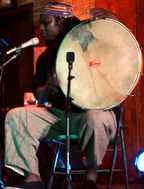 Joelle Leandre and Hamid Drake played an exhilarating bass/drum duet. These two astute conversationalists intertwined intensely intimate yet provocative communiqués that bridged the gap between cultures as diverse as Middle Eastern and Indigenous American. Drake opened the parlay on the huge frame drum as he tapped out a complex cadence while invoking a higher spirit with his mesmerizing chanting. Leandre followed with exquisite strumming and plucking to establish layers of dark tonality. She also beckoned her own spirit world with her unique form of vocalese. It all meshed on this late-night closing act of intense beauty.
Ellen Christi Quartet



Vocal and vocalese artist Ellen Christi cooked. She scatted, shouted, sprayed, and splattered her alien language through dual mikes to set the tone for her power band. Guitarist Ralph Strum kept the rhythm hot and heavy, Hamid Drake pounded out volumes of beat, and William Parker raced the neck of his bass to keep the set in constant motion.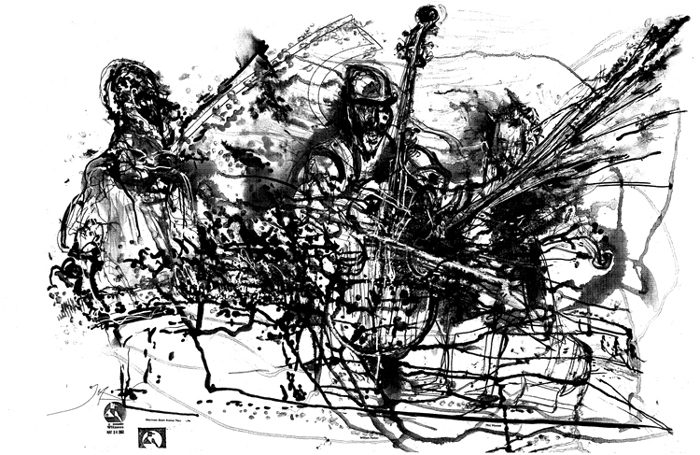 MATTHEW SHIPP STRING TRIO
Matthew Shipp String Trio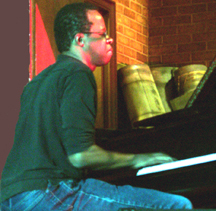 Matthew Shipp has many projects going at any one time, and the full schedule only seems to enhance his artistry. His String Trio, with Mat Maneri on viola and William Parker on bass, played music filled with deep emotion and density. There was a somber atmosphere cast by these heavyweights. Shipp has always favored the dark, melancholy side of the piano, and with Maneri to support that role, the music took on weighty proportions. The rich tones of the viola melded perfectly into the storm being brewed by Shipp, and Parker fueled the fires with deft arco playing and string manipulation. This music sweeps one up into a trance state where witches and dragons play subconscious games with the psyche. The improvisations were highly complex, and the interplay by the three fully entangled. Whether engaged in developing intricate solos or responding collectively to the abounding vibrations, the String Trio excelled. They cast a huge shadow.
Whit Dickey / Joe Morris / Rob Brown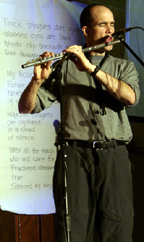 As a drummer, Whit Dickey can be quite explosive, but when he surrounded himself with guitarist Joe Morris and alto player Rob Brown, he became a member of a telepathic threesome spitting out intricately devised improvisations. Dickey rolled on as a forceful tidal wave while Rob Brown proved once again why he is recognized as the premier alto player of this time. Brown's solos are endurance tests, but he makes it all sound logical and connected. Morris visually appeared to be unemotional but the music he put forth was full of feeling. It poured out of his instrument in methodical order and seemingly effortless manner, washing over everything with clarity and unblurred precision. Brown and Morris made high-register sparks fly while Dickey snared them in his net and fanned them into flame.
Kidd Jordan / Fred Anderson / William Parker / Hamid Drake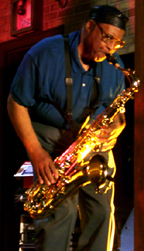 It would be impossible to convey in adequate terms the amount of raw energy and emotion transmitted by Kidd Jordan, Fred Anderson, William Parker, and Hamid Drake. For well over an hour, the four dynamos spewed molten lava in a continuous, unrestrained, take-no-prisoners session. In an extreme display of creative talent riding on the tail of a cyclone, these four gave an overly enthusiastic crowd just what they wanted. Anderson opened with a burning solo that put into perpetual motion the rocket ship that would still be orbiting out there, if the hour had not gotten so late. Enter Drake and Parker with pounding waves of current, and then Jordan with his blistering yet fully coherent form of communication. Collective improvisation was the vehicle on which they all soared; yet, their individual talent was the propellant. Anderson would evoke a series of semi-rhythmic statements that would inspire Jordan to take it up several notches, while Drake and Parker - totally drenched from the ordeal - would turn into whirling dervishes to spin out their message. With the audience in frenzy mode, the typhoon kept coming, wave after wave, until it culminated in a natural bombastic ending. The two elder statesmen on horns were not finished, though, for Jordan and Anderson played an encore duet starting as a slow blues but again evolving into levitation-inducing vibrations. When reflecting on significant emotional events, this will rank in the upper register.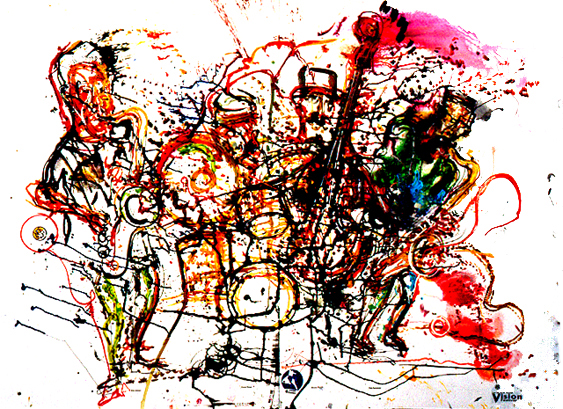 KIDD JORDAN | FRED ANDERSON | WILLIAM PARKER | HAMID DRAKE
JAYNE CORTEZ'S FIRESPITTERS
Jayne Cortez's Firespitters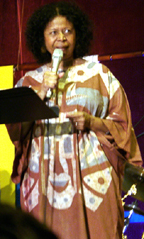 Jayne Cortez is the conscience of the world. She sees the wrongs all around us, and she tells it like it is without pulling any punches. Her band also made a strong statement on this Don Cherry tribute evening. Cherry's son Michael played an opening piano solo to start the honors, and from then on, Cortez blasted society with stinging words of reality while the band made definitive exclamation points to her words. Alex Harding was emotionally emotive on baritone, Bern Nix electrified the air through his guitar, Cherry's daughter Jan was very expressive on violin, and Cortez's son Denardo Coleman punched the drum skins with power to spare to solidify the band's contribution. Cortez's socially aware phrasing dominated the atmosphere. She is here and now, and she hits you between the eyes with no holds barred. The impact was significant.
Dewey Redman Quartet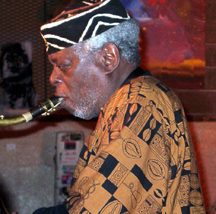 Dewey Redman is another legend that keeps on going with solid performances and exciting music. He surrounded himself with a young rhythm section and proceeded to blow with authority for this entire set. Redman has a crowd-pleasing formula of first playing a tune that is out and then taking the next piece inside. Both his live performances and recordings seem to have this flexible characteristic. Redman also knows how to get a crowd into the music with his personable style and encouragement, including not being shy about parading through the audience or requesting a vocal feedback to his singing. Pianist Barney McAll from Australia worked neatly with the master, punctuating the tunes with a positive style. John Menegon and Matt Wilson were also strong rhythm supporters, but the show was all Redman. He played extended solos, pushing guttural vocal tones through his horn as well as notes. Although he reveled in playing bop and the blues, it was his more aggressive freeform tunes that carried the day. And he did it so effortlessly.
DEWEY REDMAN QUARTET
Don Cherry Memorial Band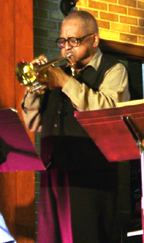 Karl Berger's tribute to Don Cherry was emotional and filled with love. He assembled a highly talented band of musicians who had played with Cherry, making the occasion a very extraordinary event. They presented an array of Cherry's compositions and tunes associated with him while a huge portrait of Cherry hung in the background as a constant reminder of his contributions to music and life. Frank Lowe was at his best on this night and played with more dedication than I have seen in him in quite a while. Bobby Bradford (pictured) was marvelous on cornet, and the vocals of Ingrid Sertso were a fitting reminder of Cherry's contributions. This was a large contingent anchored by tuba player Bob Stewart and bassist Mark Helias and ignited by the versatility of Peter Apfelbaum. Berger alternated between piano and vibes, making the definitive references to Cherry's work while showing his own exciting style that has endured for decades. The spirit of Cherry was present throughout the diverse set that showed many sides of the great trumpeter. Berger was there with him, and he shared those musical memories on this special night.
Pyramid Trio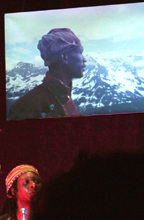 Roy Campbell, William Parker, and Hamid Drake participate actively in multiple projects either together or individually, but the Pyramid Trio has its own identity and sound. Campbell becomes the focus, playing trumpet and flute, Drake expands on his ever-changing percussion tactics, and Parker is able to dabble with percussion and his thumb-stroked dosengoni in addition to the bass. The trio offers a wealth of artistic opportunity for the three. On this set, they played four very diverse tunes ranging from mystical to upbeat to political to serene. On all tunes, there was close interaction and astute empathy. The band was highly rhythmic, particularly when both Drake and Parker set the joint pace. Campbell also sang the strained lyrics to the upbeat "Malcolm, Martin, and Mandela," a simple melody that was expanded instrumentally into a solid piece. Campbell's solos on the free improvisations were the meat of the set, and the heady support from his companions made the fires burn brightly.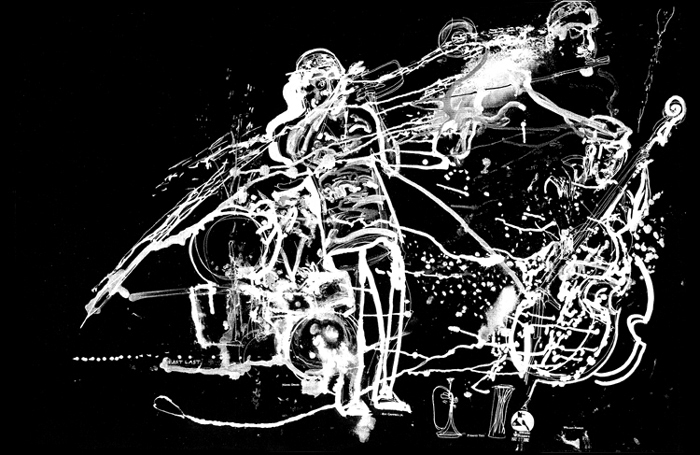 PYRAMID TRIO
Assif Tsahar's New York Underground Symphony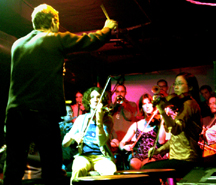 Everyone expected Assif Tsahar to be blowing his tenor wildly, but instead, they witnessed his adept ability to direct an orchestra using the conduction method. Tsahar had every eye of his New York Underground Symphony orchestra riveted on him, and he picked and chose whom he wanted to play and how he wanted them to play it by his adroit handling of the baton. No sheet music was evident. The strings played a critical role with softened tonality, but there was no shortage of horn players in this diverse ensemble. The trumpets and trombones exploded on Tsahar's command, only to recede into quietude as other instruments took over the lead role. The three pieces moved through emotional mood swings ranging from pastoral to turbulent, always reaching a crescendo in a flurry of spontaneous collectivity. Although violins, violas, and cellos might suggest ethereal music, this was not the case. Tsahar visited his muse, and he adroitly intertwined two sonic extremes into a creative force. He told me the next night that some people were disappointed in this new venture, but I found it both challenging and refreshing.
Freedomland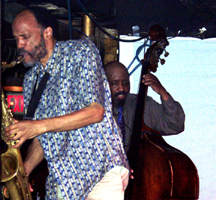 Freedomland is a relatively new alignment of veteran Downtown New York musicians featuring the exciting reed and brass playing of Daniel Carter. The group has a triple bottom end with William Parker on bass, Dave Sewelson on baritone, and Dave Hofstra on tuba. Providing the rhythmic power is drummer Dee Pop, who is making his first entry into improvised music with this group. Previously he had plied his trade with rock bands. Freedomland is a showcase for Carter's many talents. He randomly runs through any number of woodwinds and also pulls out the trumpet from his bag of many instruments. Freedomland is a power group with a rhythmic foundation, but when it cranks up into high gear, its freeform arrhythmic energy is dynamite. The baritone/tuba combination gives the group its unique identity, although Sewelson also plays tenor in sparring matches with Carter. The band has recently released its first recording Amusement Park.
Other Dimensions in Music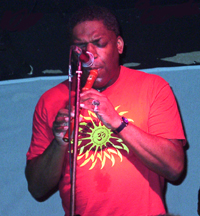 Other Dimensions in Music is probably the hardest working band in the business. From the first downbeat to the last note, the four musicians exude total energy to go along with the creative forces. While William Parker and Rashid Bakr push relentlessly, Roy Campbell makes his trumpet sing and Daniel Carter explodes on countless reeds. This session found them in full synchronization, which is what we have come to expect from this band that has been playing together for several decades. The tempo is incredibly fast, and the four artists keep pace at these breakneck speeds. Carter is a marvel to hear. He picks up any one of his half-dozen horns and spits out fire and brimstone - all of which has a logical progression and communicable phrasing. The band appears to be having fun while all this creativity is happening. They inject woops and hollers to incite more action, and the steamroller moves on and on. ODIM is a thrilling band that is certain to keep one's heartbeat pounding.
Otic Band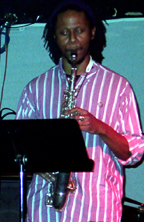 The Otic Band led by bass player Todd Nicholson is a young group that has a solid foundation in the music. They played unstructured original music with considerable spirit and power. Nicholson is a staunch leader who sets a resonant, often-booming pace, and the three-man front line of Nate Wooley, Mikel Priester (pictured), and Brent Bagwell built the music to intense levels. Priester in particular was impressive on alto. He showed fine form and great chops. We should be hearing more of him as he continues to develop. All three horn men were excellent soloists, and the push from Nicholson and Pride was non-stop. The future of the music is in good hands with young talent such as this.
William Parker's Little Huey Creative Music Orchestra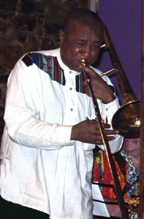 William Parker's Little Huey Orchestra is an ongoing project of love for the creative art form. With each ensuing reunion of this band, he is able to instill freshness and originality into the music. Little Huey is a highly talented assemblage of musicians, and Parker's compositions are stimulating for them. They offer each of the artists a major role in the construction of the intricate pieces, which typically are set-length offerings. On this night, Parker worked in quiet dynamics and serene tonality before the more obvious explosiveness took hold to generate another landmark session. Although the band performs together sporadically (this was their first 2002 encounter), they play with the precision of a regularly working band. The soloists were all excellent, with Sabir Mateen and Dick Griffin (pictured) being notable standouts in the super lineup of stars. Parker does not need to conduct this disciplined group; he remains in the back pushing on the bass and allowing the creativity to come forth unencumbered by direction. It is a formula that works to perfection.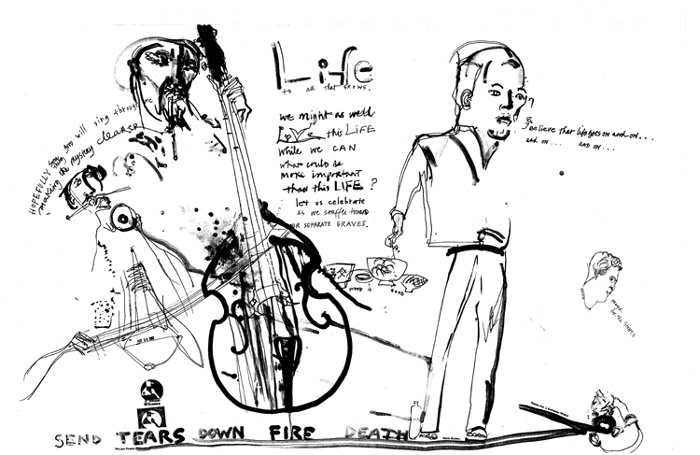 SONGS FOR A SUFFERING WORLD
Songs for a Suffering World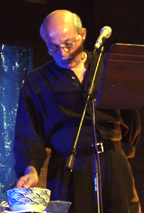 Poet David Budbill has teamed with William Parker on several occasions for public performances and recordings. On this date, the bass player added color, texture, and vocal/percussion accompaniment to the direct, straightforward recitations by Budbill. Budbill's poetry touched on the human experience with emphasis on 9/11. He took a macro viewpoint of life, and his verse related regularly to nature and the environment. His perspective honored the Asian aesthetic and ancient wisdom. Budbill approaches life in a pragmatic manner but always seems to find the good in people and situations. Parker chanted, used percussion instruments, and worked his bass in consort with the telling words flowing so eloquently from Budbill, who also played chimes through striking glass bowls of varying size. The two art forms merged neatly through their efforts.
Paul Dunmall / Paul Rogers / Gerry Hemingway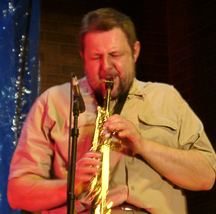 British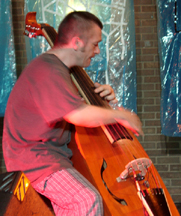 saxophonists have a stark, serious quality to their playing, and Paul Dunmall exemplifies the style. He blew with religious fervor on a set with percussionist extraordinaire Gerry Hemingway and stellar bassist Paul Rogers. The program contained one set-long free improvisation that saw the trio listening intently to each other and communicating flawlessly. Dunmall was often demon-like on tenor, blowing with sterile, emotionless zeal. Rogers played an interesting acoustic bass, which was a six-string custom-made instrument of smaller size and not as much resonance as the full-sized model. Still, he was masterful in eking out lengthy improvised solos. Watching Hemingway is always a treat. He dived deeply into the music, using multiple percussive tactics to motivate the group. His rubbing of the skins produced an unusual tonal quality on the several quiet moments of the performance. The raw emotion that characterized the majority of the set was highly refined and penetrating. This trio was unquestionably accordant on this night.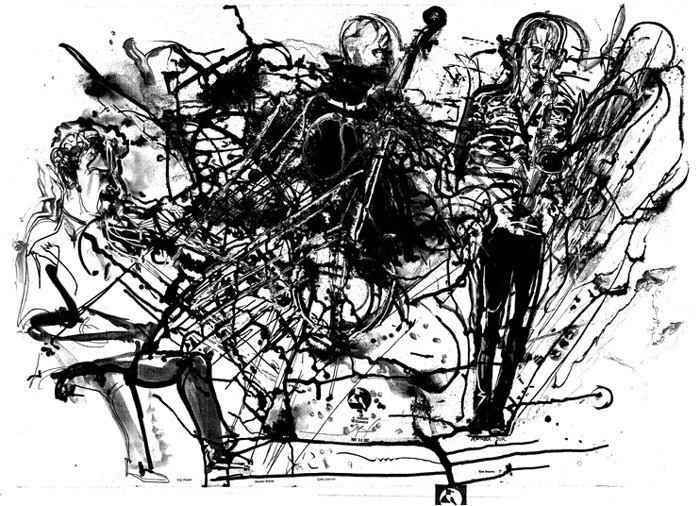 ROB BROWN QUARTET
Rob Brown Quartet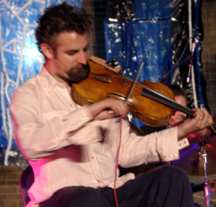 Rob Brown appeared with several bands during the festival, but he also fronted his own quartet. The instrumental mix of reeds and viola worked very well. While Brown continued to soar on high on alto and flute, the intense string playing of Mat Maneri complemented the sound. The young rhythm section of Chris Lightcap and Andrew Barker fanned the flames with considerable push while both Brown and Maneri took off on flights of fancy. Brown is noted for taking long, well-developed solos, and he cut loose on this session with extended dissertations augmented by terse interjections from Maneri's high-pitched viola. The music was very spirited, taking the audience on long rides of improvised beauty. The ideas continued to roll off Brown's tongue, and Maneri was in great form as well. This band played daring music with plenty of drive.
Douglas Ewart Inventions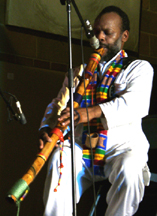 Douglas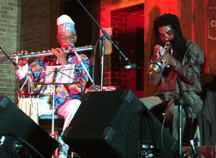 Ewart has been experimenting with unique instrumental forms for decades, and this latest group called Inventions brought out the ultra-exotic nature of his musical thought process. He captured the sound and spirit of Oceania and Southeast Asia and repackaged it with delicately constructed free improvisations played on unusual looking and sounding hollow reeds. On this special night, Ewart enlisted Joseph Jarman and Wadada Leo Smith, with whom he said he had wanted to perform for some time. With three horns, exquisite koto player Miya Masaoka, and the shaded rhythms of William Parker and Hamid Drake, Inventions wound its way through dense rain forests, painting a collage of multiple colors. Smith was on fire, spitting out heavy rounds of freedom in between the quieter passages, and Jarman moved from subtleties to overt pronouncements as the lengthy main piece unfolded. Masaoka was sheer delight to watch as she turned the ancient instrument into an improvising tool. The set was a highly satisfying encounter.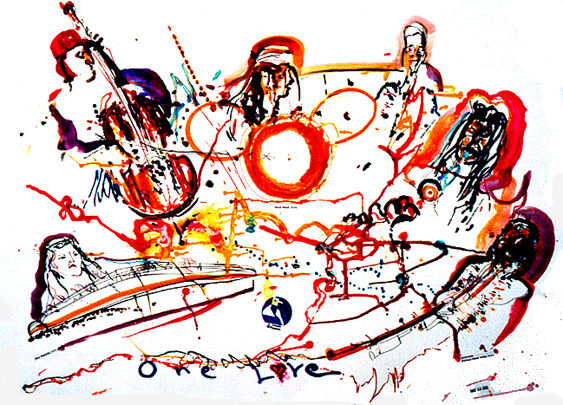 DOUGLAS EWART INVENTIONS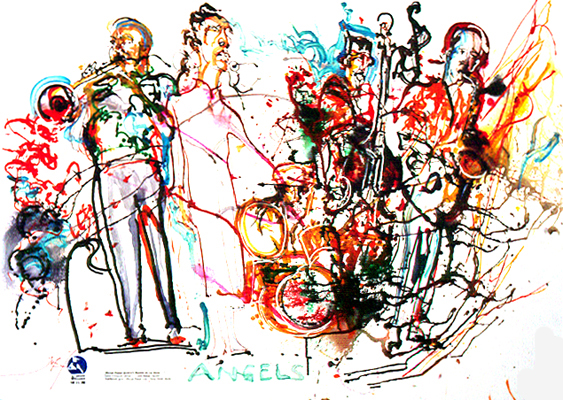 WILLIAM PARKER QUARTET'S
"RAINING ON THE MOON"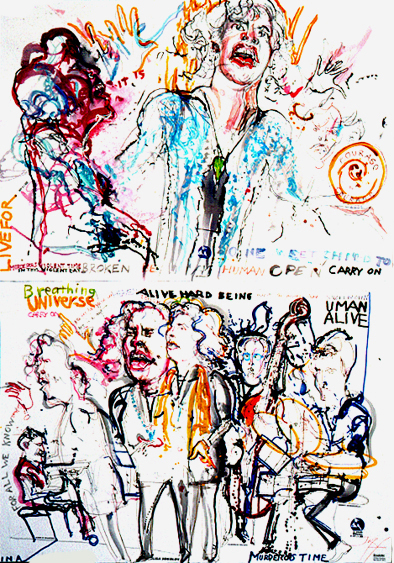 LISA SOKOLOV | JOHN DIMARTINO
CAMERON BROWN | GERRY HEMINGWAY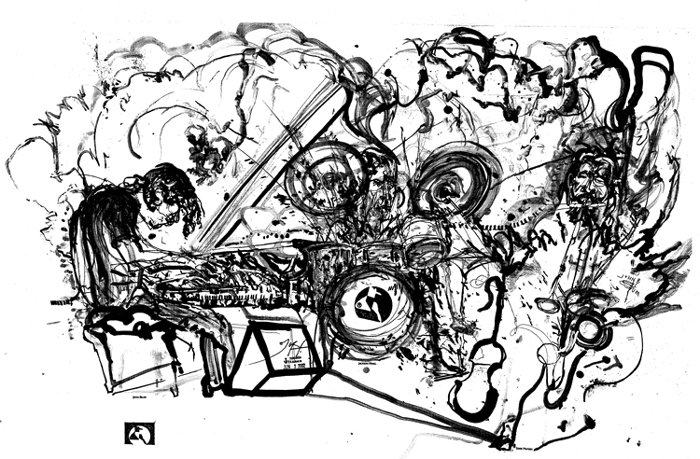 JOHN BLUM | SABIR MATEEN | JACKSON KRALL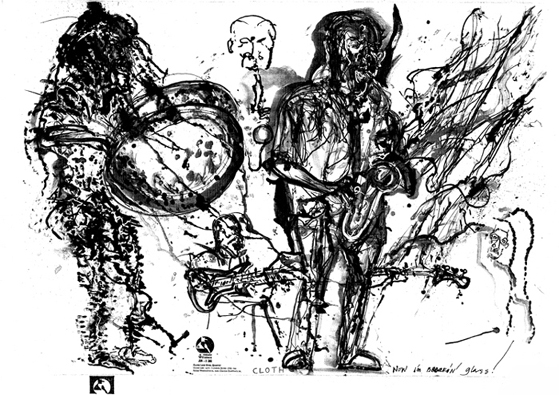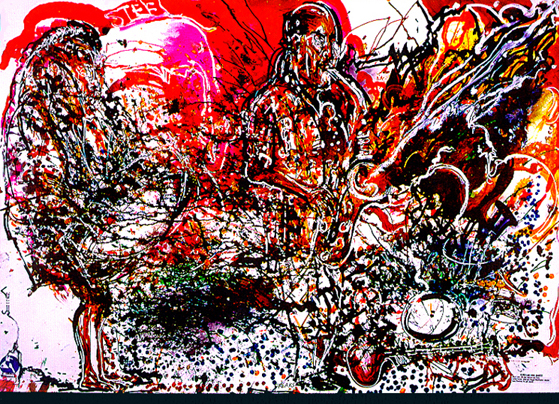 OLIVER LAKE STEEL QUARTET with LYNDON ACHEE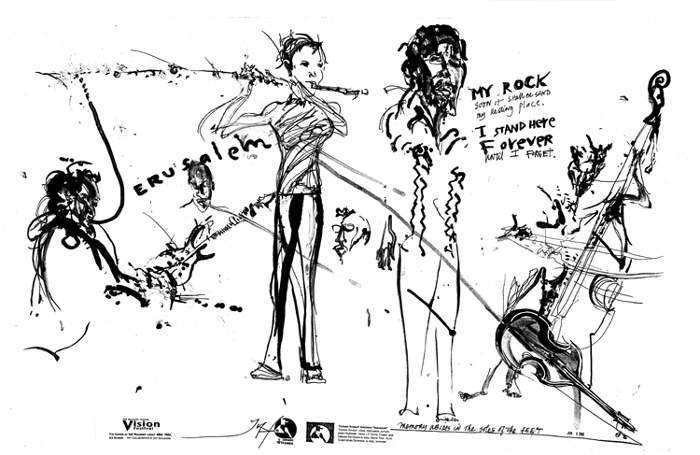 THOMAS STANLEY performs "JERUSALEM"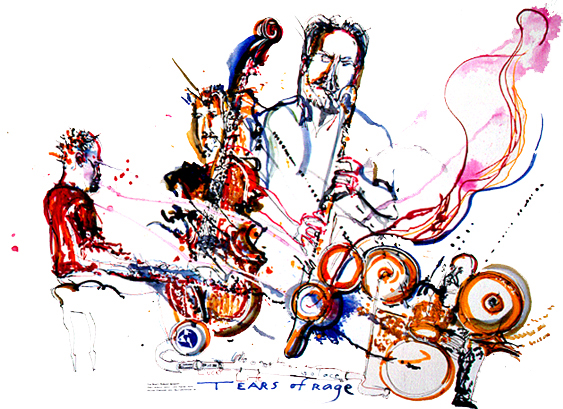 MARTY EHRLICH QUARTET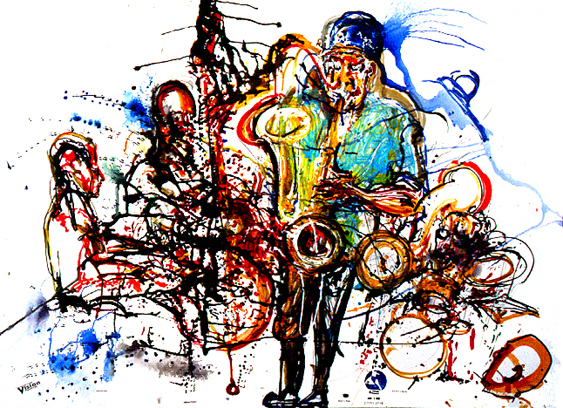 DAVID S. WARE QUARTET